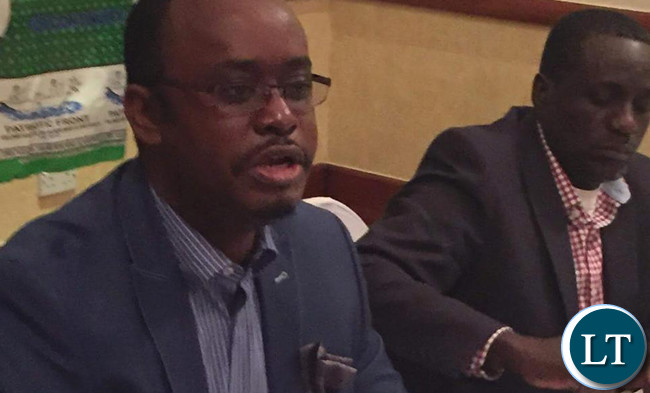 By Sunday Chanda
The Patriotic Front is aware that the trust backing the UPND leader is bent on interfering in our internal politics and this they have been doing for a while. They were in Zambia during last year's campaigns as Hichilema's image builders and consultants and today they have lined up their people across the continent and indeed the globe to issue statements aimed at creating a false image of President Edgar Chagwa Lungu as a tyrant.
We have noticed a desperate attempt by some paid voices for hire that are hell bent on tarnishing the image of Zambia as a peaceful country and President Edgar Chagwa Lungu as a just and astute politician. In recent past, we have been greeted with imperialist corporate interests and voices inducted by the foundation to forward and safeguard these interests and profits in Africa. This is a type of neo-colonialism with a band of hired guns or stooges to which HH is a member earmarked to deliver Zambia to them.
'Money over matter' type of politics have been at play ever since UPND leader HH was arrested and charged with treason among other offences following his publicly televised reckless 'race' against President Edgar Lungu's motorcade on the day of the Kuomboka Ceremony.
We cannot discuss the matter in detail because it is before the court but nevertheless we can give the general public, local and beyond, a perspective or context so that they are not duped by the pack paid for and owned by a well known Foundation.
This Foundation's members include the loudest voices in this African Game of Thrones were the voices for hire want to demonise President Lungu, an educated lawyer and seasoned politician who knows that the best a leader can do is follow the law and not defy it wantonly in order to remain relevant.
On 25th January 2015, President Edgar Lungu, grossly under rated by HH and his under educated image builders was sworn in as President of Zambia after a gruelling nail biting race. HH refused to recognise the vox populi then and embarked on all manner of defiance that smacked of nothing but illegality.
This included derogatory language heaped on President Lungu that cannot under normal circumstances be allowed in a functional or budding democracy like Zambia. His legislators frustrated parliamentary debates and embarked on all sorts of cheap schemes to frustrate the government including dramatic but unparliamentary walk outs.
President Lungu still marched with eyes on service to the people, proceeding to win another election and beating HH for the second time in under 20 months, perhaps the source of the intense bitterness HH holds against President Lungu—twice beaten twice bitter!
After the ECZ declared President Lungu, HH cried foul like the political baby that he is, stamped his feet like a toddler and ran to the Constitutional Court with a pack of lawyers looking for a pay day. After a gruelling two weeks of back and forth at the Constitutional Court, HH lost to the same man he had contempt for, for the third time in 20 months, a very painful pill to swallow.
During the two week period, President Lungu remained calm, prayed and did not succumb to the insults HH and his friends kept hurling at him, even after the Constitution Court on 12th September returned with a verdict that the ECZ was right, Edgar Lungu was legally the President and HH had lost. This was the fourth time HH was losing to the same opponent in less than 20 months.
Instead of swallowing the humble pie, HH now resorted back to insults, calling an elected President Lungu a 'hyena with no plan 'and any sort of derogatory terms he could muster during his public outcries for attention, but President Lungu ignored him.
Without commenting on a matter before the Courts, it's clear that after running out of patience after sensing President Lungu would continue ignoring him even if he stood up on the hill and insulted him, a desperate HH moved his drama a notch up as the circulated video depicted and almost caused serious death and or maybe even potential death of the elected President that day in Mongu. The footage is there for all to see and it speaks volumes regarding what HH's obsession for the Presidency has driven him to; levels were he does not mind causing harm both to himself and other individuals.
We therefore call upon his vuvuzelas paid for by well-known neo-colonialists to step back and see the context and history of their 'bad boy's 'behaviour they sink more money in a bottomless pit of losses. It is a fact that HH is a political loss super case study and his supporters must wake up to this reality before he grinds all of them to a political abyss or worse still get someone killed with their reckless demonstrations.
President Lungu has shown under pressure that he will observe the law to the matter so therefore if anyone wanted to be fair and chose sides, let them chose President Lungu. Zambians and the President love their peace and have shown their commitment to peace through very trying times. This is because President Lungu respects the rule of the law—HH doesn't.
HH with his friends and their questionable financiers on the other hand have shown relentlessly that they will work doubly hard to destroy the peace that President Lungu guards jealously. Some of these mouthpieces do not have any morality to lecturer anyone, later on Zambia about democracy and peace building. They carry more dictatorial baggage than anyone can ever imagine. Others suffer from the same complex of refusing to accept the will of the people as HH does. They have never understood that Vox Populi, Vox Dei. It is laughable that bloodthirsty individuals and former dictators, including the "Nazi Party" in South Africa are paid to speak in order to tarnish Zambia's enviable image.
We are also not shocked when UPND is supported by the Democratic Alliance (DA). This is a political party that seeks to undo all that the people of Zambia sacrificed for in securing South Africa's Freedom. DA is political party that exists to strengthen the hand of the apartheid legacy and racial supremacy in South Africa.
Everyone understands that neo-colonialism uses the likes of Mmusi Maimane to advance or implement foreign/alien agendas against the true wishes and felt interests of the marginalised indigenous majority. The beneficiaries of South Africa's apartheid regime who represent capital have morphed into DA's Mmusi Maimane. DA is not a project of Maimane; the original owners of DA are the Leons and the Zilles. Maimane knows that he is a political front and while he retains his name, he speaks and represents the interests of his matters the neo-colonialists.
In particular, we wish to challenge Mr. Raila Odinga to tell Zambians the lessons he learnt from Kenya's Post-election violence after he behaved like Hichilema by refusing to accept the will of the people. Thousands of Kenyans lost their lives because Mr. Odinga refused to accept the will of the people after he accused former President Mwai Kibaki of rigging the election. This is Mr. Odinga's style of politics and there is no doubt that Hichilema is being a very good student. Zambia is not for sale to the highest bidder!
While we do not agree with Economic Freedom Fighters (EFF's) statement in totality, we agree when EFF confirms that Mr. Hichilema's neo-liberal ideas will not lead to much needed transformation of social circumstances and economic emancipation in Zambia. The EFF is correct when it correctly states that the people of Zambia, through peaceful elections chose President Edgar Lungu, whom through political tolerance and harmonious contestation of ideas was able to lead an effective campaign. Further, the EFF is correct when it pronounces that they believe President Lungu had made progressive and admirable decisions to work with members of opposition party when elected in office to transform social circumstances and economic emancipation of people of Zambia. We certainly have no doubt that if availed the right information regarding Zambia's socio-political and legal regime, most of EFF's other concerns would not even arise.
Lastly, we therefore call upon Zambians of goodwill to reject populist business interests that threaten to slide Zambia in a dangerous abyss of chaos and possible spillage of blood. Let it be told to those who seek to auction our country to the highest bidder – keep your money, we will keep our country, our honour and our peace.
The Author is the Media Director of the Ruling Patriotic Front Party in Zambia