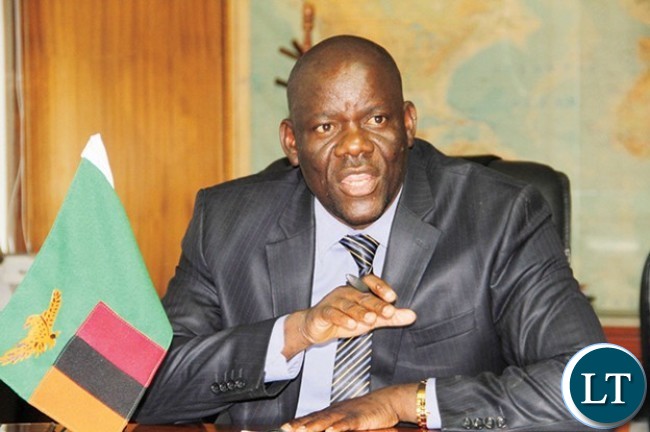 Patriotic Front (PF) Secretary General Mr. Davies Mwila has assured the structures in Muchinga Province that the party will never depart from the values that made it Zambia's number one (1) party of choice from 2011 when it formed Government to date.
"We know and understand that the Patriotic Front was birthed as the people's movement, as a pro-poor party to who we have committed ourselves as our 2011-2016 and 2016 to 2021 election manifestos consistently show," said Mr. Mwila.
The Secretary General has called on the membership across the country to show unity and discipline even under great provocation. He has said that was the mark of a mature party trusted to lead a nation. He has also called on the membership to dispel falsehoods peddled against the party leadership by those whose only preoccupation in politics was to get into power.
"Of course those who seek our fall as a party have regrouped and manufacturing lies and distortions against our leader President Edgar Chagwa Lungu and the Patriotic Front, but the party remains unshaken. Their lies and distortions have very short legs, they can't go far! The Zambian people from whom we draw our mandate as a governing party can be assured that those of us who are privileged to know President Lungu as an epitome of incisive leadership, intellect and high moral standards, a man who was a glue at a time when the party and nation lost late President Michael Chilufya Sata. Muchinga Province can be assured that President Lungu has followed in late President Sata's footprints and the party and country were in very safe hands."
The Secretary General has assured that the party's preoccupation is no longer politics per se but development. The politics Zambians are asking PF to do is to bring development closer to their doorsteps in the form of good roads, schools, hospitals, good prices for their agricultural produce, including entrepreneurship ventures for our youths who want to work for themselves, among others. "We are not in government to be exchanging words with those who want to get into the driver's seat. Their aim is to distract us while ours is to remain focused with our eyes on the ball. We want to present a better and more developed Zambia than we found it in 2011 and indeed far much better than it looked in 2016. That is what the people of Zambia sent us to government to do – to change their lives for the better".
The Secretary General has reiterated his call for discipline and unity in the party. He has said it was the duty of every party member to focus on building a strong and united party. He also observed that numerical growth was a sign of growth for a political party and a duty for every member to undertake.