By Aristide Bance
Prologue
The year is 1998 and I had just turned 16. My mum comes to my room and says I should get ready as we are going to get my Green National Registration. I am now becoming a man I thought. The excitement I was feeling at that moment I cannot describe. My mum and I go to the Kamwala centre and stand in a queue. The queue is moving fast and this is impressive. As we enter the interview room, the officials ask me questions regarding my parentage and their villages. They even speak to me in the local lingo (A technique public officials have horned and perfected so well when trying to detect Zambians and non-Zambians). After the interview I go into a room and my picture is taken but I am taken aback as I see that my identity card is a piece of paper that is placed in a typewriter and suddenly I feel like I am in 1988. But this is 1998! I don't understand why two years before the year 2000, these people are using outdated technology. I watch the typing and afterwards a portrait of myself is placed in the typewritten paper. I am then told to sign this piece of paper and then afterwards, it is placed in a thick lamination clear plastic and paced through a laminator. After that I sign a register and I am given my warm National Registration Card. I am filled with mixed emotions and my mum gets my card for safe keeping.
The South African Smart card
I had to set the tone for this article and give the reader a sense of what I felt when I got my National Registration Card because it was a big moment for me and it meant a lot. Now that I have the attention of the readers, let me get straight to what the article is about. This is 2017 and I still have my National Registration Card which is in very good condition as I respect important documents. I showed my NRC card to my South African friend and he asked me what I was holding and when I told him he thought I was joking. Well, I don't blame him and this is why. On the 18th July 2013, South Africa started rolling out a smart identity card moving away from what the used which were green identity books. With a smart card, it can be conveniently carried in your wallet or purse because of its size and shape. It is the same size and shape as your other cards – bank cards etc. Your personal information is stored in a computer chip in the card. The chip cannot be stolen from your card therefore your information will be safe. Your fingerprints will also be stored in the computer chip in the card. The information contained in the Smart ID card cannot be easily stolen or duplicated.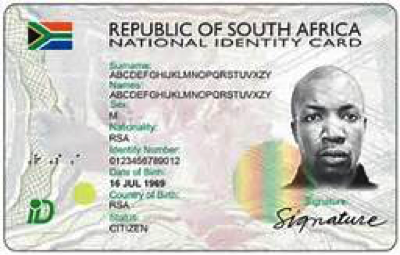 The Nigerian Identity card
I have a Nigerian friend who told me that in Nigeria, when he was growing up, they had no Identity card and everyone had a passport. He mentioned that this caused a lot of foreigners to just cross over from neighbouring countries and obtain the Nigerian passport simply because the borders that exist in Africa are considered artificial in most parts of Africa and people have relatives in neighbouring countries but now that these borders are law, people are obliged to remain in the confines of their borders.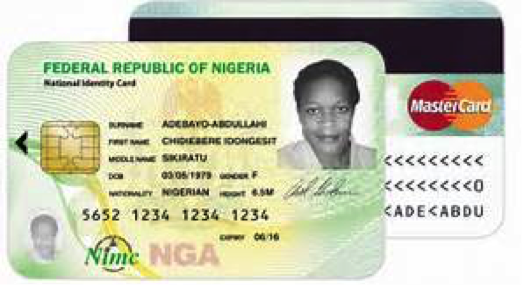 The card, which fits into a wallet and comes with a credit-card style chip, can also be used to make electronic payments. Nigerians can use it to deposit funds, receive social benefits, pay for goods and withdraw cash at ATMs across the country, according to MasterCard, which provides the card's prepaid payment technology. The company also claims that by providing proof of identity, the card solves one of the biggest problems people face when trying to open a bank account. The card could also be used for voting in the future.
The Malawian identity card
East of Zambia, lies a small and peaceful country called Malawi. Malawi smart identity card serves a number of purposes. The national ID card will make it possible for the ID card holder to show their eligibility for multiple purposes. For example, it can be used to access free primary education, social services such as health care and to meet financial requirements such as getting a loan. Even Malawi as small as it is in embracing technology which is a wonderful thing.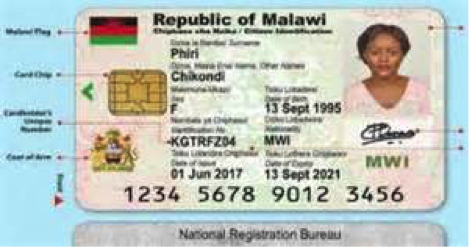 The Ugandan Identity card
According to the africanreport of April 14th 2014, for the first time since its independence in 1962, Uganda was slated to undertake a massive registration exercise to ensure every citizen in the east African country obtains a national identity card. The national identification cards are now digitised and bear the holders' photo, names, biometric details including fingerprints.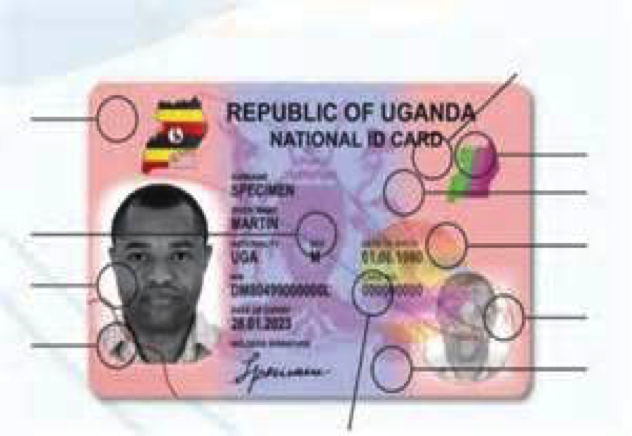 The benefits of the new identity card enable for proper identification helping authorities apprehend suspects faster, drive down crime, and reduce fraud in the banking sector as well as electoral malpractices."
The Zambian National Registration card
The Zambian National Registration card looks very retro when placed with the modern smart identity cards that most countries use and this is because it is. It looks so old school and laughable. It is supposed to be a symbol of national pride but I will not take out my card when friends ask me because it is simply unacceptable. The picture below shows Zambia's backwardness. When countries are incorporating their smart identity cards with voter's information, in Zambia, we need a second card when voting. The horror!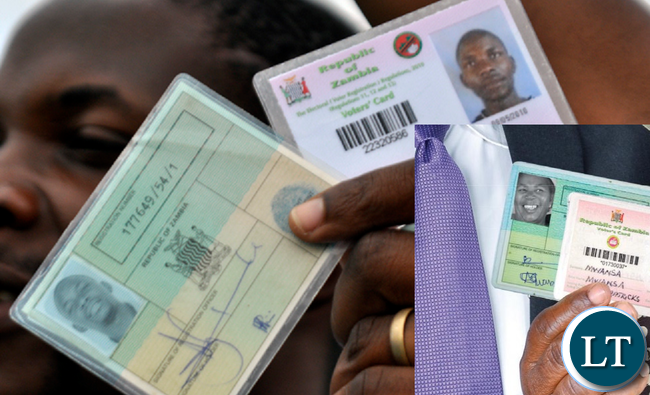 The Zambian NRC is an embarrassment and should be phased out. How can we be used this kind of identity in the technological age surely.
The benefits of adopting a smart Zambian national registration card
This article has outlined benefits using other countries in terms of moving on with the new technology.
To reiterate, the benefits are
If I use the Nigerian case in point, electronic payments can be made. It can be used it to deposit funds, receive social benefits, pay for goods and withdraw cash at ATMs across.
To avoid people obtaining Zambian National Registration cards and avoid people pretending to others as this information will be in a national database.
Avoid fraudulent activities and early detection of such as this will be easy to trace with computer technology.
Can also be used to combine as a voting card, hence avoiding doing the voters cards every time we have to vote, this will save money obviously.
As in the Malawian case, this new smart card will be used for a lot of things, hence eliminating the carrying of multiple cards like for example, pensioner's cards, etc.
The digitisation of the NRC will make unscrupulous people fear stealing other people's identities. Zambian NRCs are now in the possession of many nationalities across the globe.
The chip that most smart cards have stores personal information that cannot be stolen. The current Zambian NRC lacks proper security features.
Epilogue
In conclusion, I would like to urge the government to really think hard and start digitising the National Registration Card system. There was a recent cry from chiefs in Southern province over subjects they know to be foreigners masquerading as Zambians and are busy stealing land. Such problems can be prevented if the identity system is a working system.
[Read 567 times, 2 reads today]