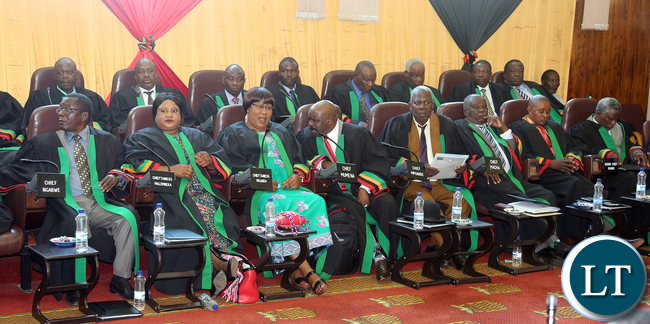 The Mutati MMD Faction has distanced itself from the letter written by the opposition alliance to House of Chiefs and published in the Mast newspaper on Friday demanding the release of incarcerated UPND leader Hakainde Hichilema.
MMD National Secretary Raphael Nakacinda said his party was not party of the opposition alliance as the person purporting to be in the alliance with other opposition parties was no longer the President of MMD.
In a letter dated 2nd June, 2017, Mr Nakacinda said Nevers Mumba who is the former party President signed the latter on in his personal capacity as the President of MMD was Felix Mutati and not Dr Mumba.
He explained that Dr Mumba who has refused to accept the outcome of the convention has taken the party to court but the matter has not been settled hence the collect position was that Mr Mutati who was elected as president at the party convention and recognised by the Registrar egistrar of Societies is the legitimate leader of the former ruling party.
"Movement for Multiparty Democracy (MMD), therefore, distances itself from the letter written by the opposition alliance to your office which is reported in today's "The Mast" edition No.o205in which they are demanding among other issues the immediate release of the President of United Party for National Development Mr. Hakainde Hichilema. Dr Nevers Mumba signed the said latter in his individual capacity and not as MMD President," reads the latter in part.
Meanwhile, incarcerated UPND leader's wife Mutinta relased the following statement to the media wishing her husband a happy birth day
55 DAYS IN PRISON, HAPPY 55TH BIRTHDAY MR HAKAINDE HICHILEMA, MY HUSBAND – MUTINTA HICHILEMA.
4th June, 2017.
_________________________
Fellow country men and women,
The Hichilema family hereby invite you in wishing the UPND President, Mr Hakainde Hichilema, a happy 55th birthday which falls today, Sunday, 4th June, 2017.
In the past, we have always celebrated Mr. Hichilema's birthday at our residence while sharing light moments as well as discussing how he intends to provide equal opportunities for all when he forms government.
However, it is not the same this time around, as Mr. Hichilema today marked 55 days in prison and also by God's grace reached 55 years old.
As always, we once again call on the country to solidly stand with Mr. Hichilema by wishing him a happy birthday.
As family, just like most of you out there, we would have loved to be with him at our residence and celebrate his birthday as we have always done especially on his vision of creating opportunities for all, uniting our country beyond its current disrepair, but this is not the case this time around as Mr. Hichilema has marked his 55th birthday on his 55th day in prison.
Therefore, wherever you maybe, we call on you to join us in wishing Mr Hichilema, a son of this land a happy 55th birthday.
We count each day given to Mr. Hichilema as a blessing from the Almighty, God.
Once more as the Hichilema family and indeed on my own behalf, we say happy birthday my husband, happy birthday Father and may God bless him.
May God bless you all,
And God bless our country.
MRS MUTINTA HICHILEMA AND CHILDREN.