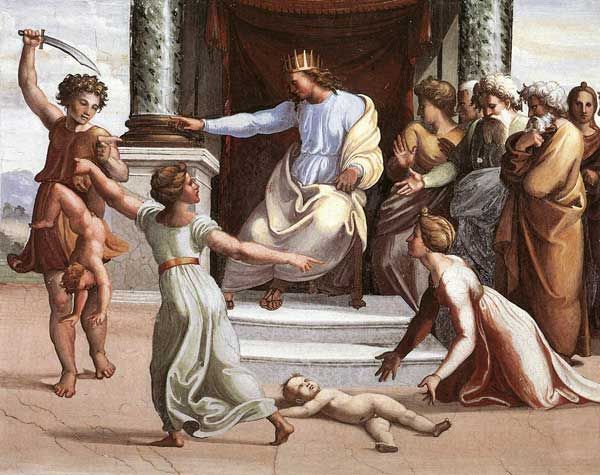 According to the Bible (1 Kings 3:16-28) one day, two women presented themselves before King Solomon. They were in dispute over a baby. One of them claimed it was her baby, while the other insisted it was hers. They argued back and forth in front of the King until he finally interjected.
"Someone, bring me a sword," he ordered. "Cut the baby in half! That way each of you can have part of him."
While the first woman professed her love for the child and pleaded for him not to be killed, the other woman consented to the decree so that neither of them will have the child.
"Don't kill the baby," King Solomon exclaimed. He pointed at the first woman and said, "She is his real mother. Give the baby to her."
Everyone in Israel was impressed when they heard about the decision Solomon had made. What do we make of this decision, in particular reference to the current political logjam we find ourselves in as a nation?
Last year, the electorates trooped to the polls to elect a new leader expected to preside upon the affairs of the land, and of course steer the nation to economic prosperity for the next 5 years. Votes were laboriously compiled as frustration and pressure mounted at the rate it was taking to unveil the victor. Lungu was eventually declared winner amidst a cloud of vehement protest from UPND leader Hakainde Hichilema. The later immediately jumped on his skates and dashed to court alleging vote rigging! However, due to some technicalities and legal gymnastics, the matter couldn't be exhaustively concluded and remains pendulous……..well, according to my humble knowledge at least. To this day, Hakainde and his ardent followers refuse to recognize Lungu as President.
There's no need to bury our heads in sand and pretend all well; the previous elections have left the nation more polarized than before! Even President Lungu himself is on record having confirmed this. Speaking in Chinsali during a church service in honour of freedom fighter Simon Mwansa Kapwepwe' s wife Salome not so long ago, Lungu observed that the country was no longer one and that the one Zambia, one nation motto was only on the lips of others.
We seem to be having some dangerous tribal zealots in the nation that strongly feel that only, and only folks they share ethnic affinity with deserve to be President! Former Katuba Member of Parliament Jonas Shakafuswa couldn't have put it in a better context when he wrote the following on his Facebook page: "Who is actually running tribal politics in Zambia. It is very interesting in PF circles to hear some quarters advocating for a Bemba President for the Party. I find this interesting especially that some Bemba leaders went home calling UPND a tribal party for its insistence that a Tonga should run the Party as President."
This actually presents us a vivid picture of the way our politics have degenerated to levels that constantly threaten the very fragile strands that still hold us together as a nation. What happened to the church of 1990s that brought the ruling party and opposition to the negotiating table when the nation was on the brink of civil strife? What about civil society, LAZ and students movement?
Anyway we don't intend to reminisce about the good old days with nostalgia; rather the thrust of this article is to promote dialogue between President Edgar Chagwa Lungu and leader of the main opposition political party in the nation Hakainde Hichilema. To put it more succinctly I'll borrow the words of one Emmanuel Chilekwa,
"Both HH and Lungu shall one day not be there; Zambia shall be there. Before these two men, there were other leaders in their political parties."
How would you want posterity to judge you? The power lies within you to save this nation from total collapse. Salute!
By Bill M. Kaping'a
Freelance writer/social activist