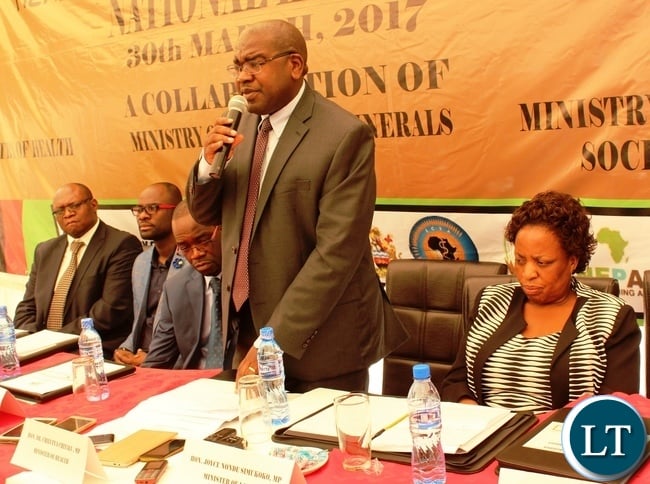 Government says it appreciates the longstanding bilateral relations it has enjoyed with the India especially in the health sector.
Minister of Health Chitalu Chilufya says his ministry in particular was happy with the relations it has enjoyed over the years with the government of India especially in the provision of quality health care.
Dr. Chilufya said the Ministry of Health together with other stakeholders was for this reason committed to providing high quality health care services to the citizens in the country.
ZANIS reports that the minister of Health said this in a speech read on his behalf by Dr. Pelham Hazeley yesterday during the official launch of Apollo Hospitals' information Centre in Zambia.
The Apollo Hospitals are the World's largest private cancer care provider and runs the World's leading organ transplant program having conducted over 1,500 solid organ transplants in 2014-2015 alone.
The Centre will serve as an Information base for Apollo Hospitals across the country.
Speaking at the same event, Indian High Commissioner representative Anand Kumar stated that cooperation towards development of Zambia's healthcare facilities is an important aspect of India's bilateral engagement with Zambia.
Mr. Kumar said his government was committed to supporting Zambia's health provision adding that the coming of the Appollo Hospitals in the country comes with the specialized training programmes in nuclear medicines, mid-term career programmes , ophthalmology and other courses.
The Envoy stated that he is delighted to see that the Apollo Hospitals are also part of the initiative in enabling Zambian nationals access to India's affordable, world class medical facilities.
He disclosed that the country is working on finalizing a memorandum of understanding for further consolidating their engagement in the health sector.
Mr. Annand revealed that a government of India Grant (GOI) of US4 One million for supply of medical equipment to Zambia is under process.
He said India's private sector engagement in Zambia's health sector is growing as several India's big companies have shown willingness with a focus on the health sector.