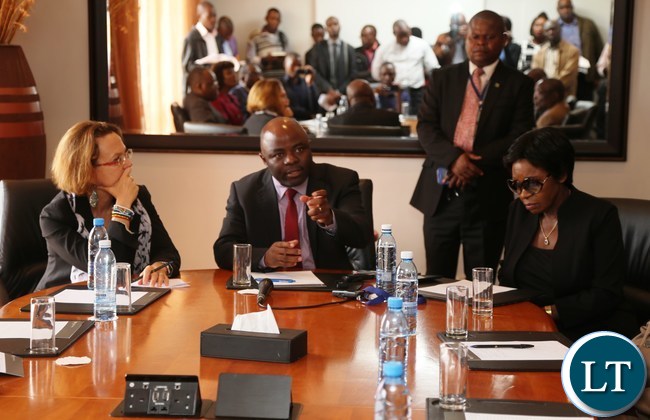 Home Affairs Minister Hon Stephen Kampyongo says the correctional service authorities are governed by an Act of parliament which stipulates exactly how individuals appearing before the courts of law and those who are already sentenced should be treated.
The Minister was speaking from Kalalantekwe in Shiwang'andu district during a live broadcast interview with Pan African radio today.
"We will not reinvent everything because of one individual. It doesn't work like that. Anyone that find themselves within the facilities, are treated within the provisions of that law. The correctional service authorities are trained officers from bottom to command and operate within the law," said the Home Affairs Minister.
"If there is anything done unlawfully, you go to the courts of law. You can go and have those matters addressed in court but am very confident that all my officers in the correctional service are doing their work as guided by the Act," he said.
Asked on the importance of members of parliament visiting their constituency, Hon Kampyongo who is on a Shiwang'andu tour of duty since Thursday, 8th June, 2017 revealed that no MP would legitimately refer to themselves as representatives of the people when they are completely detached from their constituency.
He stated that the inspiration to work for his people and tour his constituency is premised on the fact that each member of parliament should constantly draw their mandate from the people that elected them. He emphasized that the only way to reciprocate the people's confidence in the member of parliament is to deliver development while engaging the electorate.
"Shiwang'andu is vast. We have 15 Wards with 15 PF councillors, council chairperson and MP. The district gave a 100% support to His Excellency, President Edgar Chagwa Lungu and the Patriotic Front. Education and health is top on my tour of duty but am yet to touch all the Wards in just a single trip. We each owe to our people development and these constituency work tours. We have to be in touch with the grassroot," said the Shiwang'andu lawmaker.