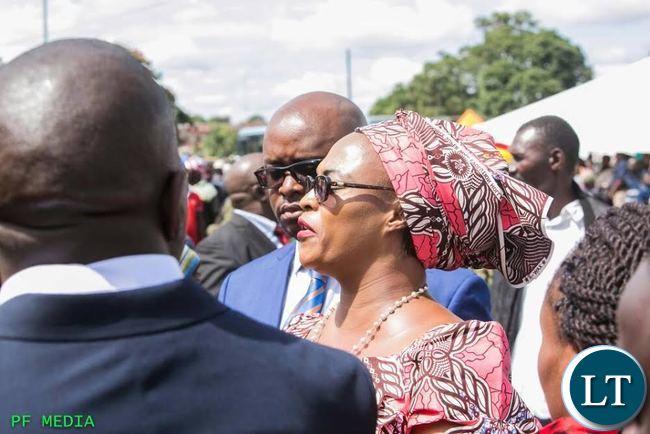 Deputy Secretary General of the Patriotic Front, Mrs Mumbi Phiri has stated that the suspension of the 48 UPND Members of Parliament by the Speaker is in line with the Parliamentary code of conduct.
She said that the UPND Members of Parliament had misconducted themselves twice stating that the first time it happened, they had been warned and therefore the action of Suspending them after the second act of misconduct was very much inline with the parliamentary code of conduct.
And Mrs Mumbi Phiri also said that those that have been saying that the Members of Parliament from the Patriotic Front also deserved to be suspended because of singing "Lungu ngatalipo bonse aba niba ngwele," when President Lungu walked into the House of Parliament should know that the PF Parliamentarians were equally warned and that in the event they repeated such an action, they too would face disciplinary action.
"People are forgetting that the Members of Parliament for the UPND apologised but went and repeated the same thing making them second offenders. Meanwhile the Members of Parliament for PF who were singing were first offenders. If they repeat, they are also going to be suspended " she said.
She cited an example of how she had been suspended from Parliament for a period of 3 months a few years back when she had been a Patliamentarian.
" People want to make it seem as though the speaker is making his own rules yet the rules have been there time in memorial. I myself was suspended for misconduct not under Speaker Matibini but under Speaker Mwanamwambwa." She said.
And the Deputy SG has advised the opposition UPND Members of Parliament to take the opportunity of the prevailing parliamentary reforms to amend the rules which they are unhappy with .
" Most People dont even know that each parliament has its own set of rules. I will cite an example of the Zambian Parliament were when acknowledging something, they say "ya ya ya ya" were as in Tanzania when Members of Parliament are acknowledging, they stomp their feet. "
She Stated that it was unfortunate that some people wanted to imitate the South African Parliament were the Parliamentarians behaved anyhow when in the House to the extent of even insulting the President .
"But here in Zambia. Especially when the President is on the floor of the house, that is described as a solemn time and the decorum requires you to keep quiet and listern. " she said.
The Deputy Secretary General was speaking when she featured on the Patriotic Front Interactive Forum at Chrismar yesterday .
[Read 24 times, 1 reads today]