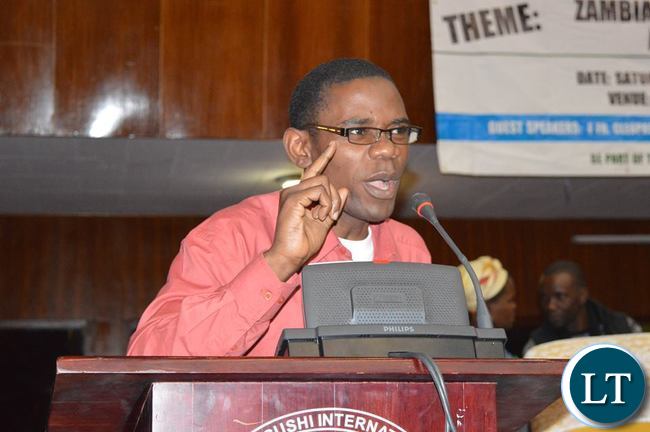 Economic and Equity (EEP) President Chilufya Tayali has said the Nation needs that dialogue, so that Zambians can bury whatever hatchets and move on, and the President is the one with that responsibility before anybody else, especially Hakainde Hichilema who is not part of Government.
Tayali said President Lungu might be falling in the political trap of Hakainde Hichilema to make Zambia ungovernable by perpetuating tension and noted that there is a solution to this problem which is to defuse this tension through dialogue in a national indaba.
He said after the Indaba, Zambians will dismiss or disown whatever anyone would bring, relating to the last elections because it would have been a closed matter.
And Tayali has warned that President Edgar Lungu should not continue to bury his head in the sand, insisting that there is no tension in the country because things might explode in his face.
Tayali said the more he continues to refuse to engage on the smoldering tension, the more it is being fuelled and it may explode like a volcano.
Tayali noted that it is a fact that the UPND and Mr. Hakainde Hichilema did not agree with the outcome of the last elections and have also refused to accept the Concourt ruling to throw out the case on a technicality of 14 days, affirming that it is on this premise that, they have refused to recognize the legitimacy of President Lungu.
Tayali said the UPND have a huge following as evidenced by the results of last elections and the PF also have a huge following, which is why they won the elections as announced by the Electoral Commission of Zambia (ECZ).
Tayali has since said President Lungu needs to recognize what is so apparent, otherwise, it will be difficult for others to recognize him as President, adding that it might just attract serious criticisms on his ability to judge situations for an appropriate and legal actions as President.
The EEP leader also noted that president Lungu should take the willingness of the UPND to dialogue as an opportunity to disarm them by allowing them to air out their grievances so that, Zambians can judge for themselves and thereafter move on.
"Therefore, President Lungu should transcend pettiness and be precocious and gracious to ignore the sentiments from the UPND and HH, to focus on his responsibility, as a Republican President, to keep this nation at peace"
"The call for National Indaba, by Archbishop Mpundu and the other Church leaders, though highly criticized, is very valid and relevant"
"We are taken aback by some leaders of the Church who are busy attacking Archbishop Mpundu and other leaders calling for dialogue, because, they are not offering solutions; rather they are making things worse" Tayali said