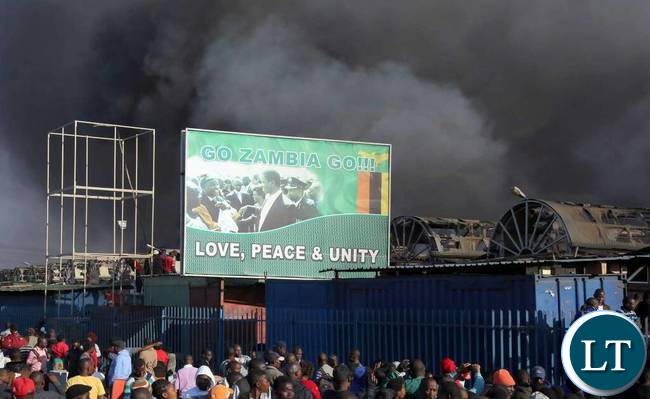 THE Lusaka City Council will lose more than K1.2 million monthly in uncollected levies if the gutted Lusaka City Market remains closed.
Lusaka City Market acting manager Andrew Banda, in an interview yesterday, said the local authority collects about K40,000 per day in levies from shops, stalls, car parks and ablutions.
"The longer this market remains closed, the more money the council will lose in uncollected levies. Even other services which are directly linked to the money collected from the market will also suffer," he said.
Mr Banda also said the market has not been insured since 2012 but that the council had been in the process of doing so.
And Government has started the process of helping affected traders with the Disaster Management and Mitigation Unit (DMMU) taking stock of the number of the victims so that it can determine how they can be helped.
DMMU national co-ordinator Patrick Kangwa has assured the affected traders that Government is doing everything possible to ensure they resume their businesses.
Mr Kangwa said a team of officers from DMMU has been dispatched to the market to assess and determine the extent of damage.
He said DMMU will wait for Government to give a green light on when the market will be opened.
This will be determined by work being done by police forensic experts at the scene.
The affected traders were yesterday asked to go to the civic centre to submit their particulars and details of property they have lost in the fire.
And police are quantifying the total value of property damaged in the fire through a team of forensic investigators.
Police spokesperson Esther Katongo said in a statement yesterday that 1,901 stalls which got burnt were on the southern part of the market.
Ms Katongo said traders are not being allowed to enter the gutted market to pave way for investigations.
"Some stalls were subdivided by the owners, meaning that there are more people affected than the number of stalls," she said.
Meanwhile, THE Association of Vendors and Marketeers (AVMA) says no amount of intimidation or acts of sabotage on market infrastructure will deter it from supporting the government of the day.
And the National Marketeers Association of Zambia (NATMAZ) has condemned the burning of Lusaka City Market.
AVMA president Able Chikwa said in an interview yesterday that those who are burning markets are targeting traders because they work with the government of the day.
Mr Chikwa said marketeers will not rise against government because of acts of sabotage on markets but will continue to support it because of its pro-poor policies.
"The people who are burning these markets want us to rise against the government, but we are not going to do so," he said.
[Read 105 times, 1 reads today]