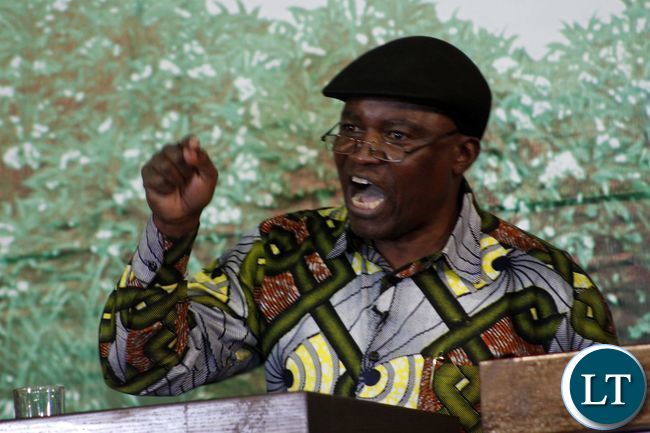 GREEN Party president Peter Sinkamba says the decision by the President Edgar Lungu to evoke article 31 of the republican constitution will have adverse effects on the nation's economy.
President Lungu in his address to the nation evoked article 31 of the constitution of Zambia so as to address the security situation due to some incidences of sabotage.
Mr. Lungu explained that government decided to invoke article 31 of the constitution empowers him to declare a state of public emergency if the situation of insecurity threatens national peace.
However, Mr Sinkamba says it is unfortunate that President Lungu's move will deny Zambians their rights.
Mr Sinkamba said the fragile economy of the nation cannot afford the proclamation as a lot of sectors will suffer the consequences.
The opposition leader said the business community in the country will suffer loses especially those that are in the entertainment sector who he said contribute hugely to the Zambian economy.
"Certain business will have to suffer due to the declaration. This will mostly affect the bars owners and providers of entertainment. These groups contribute hugely to the economy. We should expect a lot of reduction in the reserves of the country," Mr Sinkamba said.
He added that the consequences of emergency powers outweighs the benefits hence there was need for government to command the Zambia Army, Zambia National Service and the Zambia Police to increase security but still allow people to enjoy their freedom.
"The President declared a state of threatened emergency under article 31 of the republican constitution, this means that the President can enforce emergency powers that will empower him to come with regulations that will authorize searches without warrants, restrictions of movement.
"He (President Lungu) can also authorize the police to conduct other duties which the president feels are necessary under the act," he said.
Mr Sinkamba further added that the tourism sector will be affected by the proclamation because foreign tourists want entertainment and freedom of movement and not harassment from the local police.
"As Green party we feel that the emergency powers proclamation was unnecessary because we could still deal with cases of arson, anarchy and mischief from various people in the communities with ordinary laws not the emergency laws. Donors also tend to withdraw during such times and our fragile economy will not with stand this," he said.