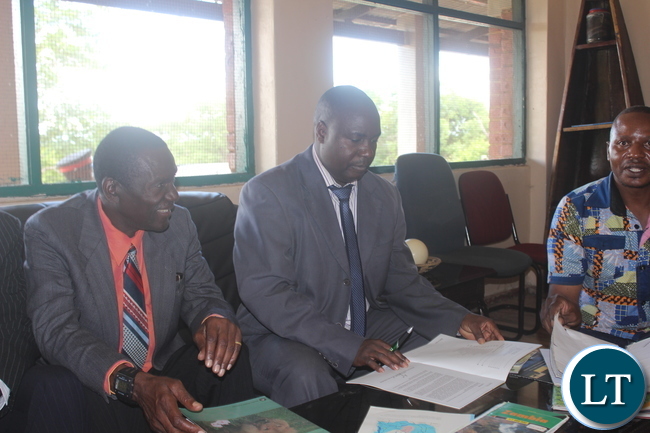 Government says it has made tremendous efforts in fulfilling globalization goals through championing global trade, finance and digital migration.
Southern Province Minister Edify Hamukale says this has resulted in the maintenance of cordial relations with both developed and emerging economies; signed strategic partnerships and alliances with other nations, multilateral and regional economic groupings and harmonization of trade protocols.
ZANIS reports that Dr Hamukale said this in a speech read for him by Southern Province Permanent Secretary Sibzanze Simuchoba at the 2017 joint Annual Business Conference (ABC) today at Avani Victoria Falls Resort in Livingstone.
The three-day conference is being hosted by the Association of Chartered Certified Accountants (ACCA), Zambia Institute of Chartered Accountants (ZICA) and Chartered Institute of Management Accountants(CIMA) under the theme, 'Globalisation, Economic Prosperity and Smart Zambia'.
Dr Hamukale said the theme was in line with the nation's aspiration to be a key player in the world in all aspects of human endeavor and to position Zambia as a competitive and first choice destination for investment.
"…to position Zambia as a competitive and first choice destination for investment, a committed and trusted partner in economic and development matters. Of course most paramount is for us to attain our middle income goal in line with our Vision 2030," he said.
He further said Republican President Edgar Lungu reiterated the need for Zambia to remain committed to the socio economic development planning of the country as reflected in Seventh National Development Plan (SNDP).
"Our President says there is need to move away from sectoral-based planning to an integrated development approach by accelerating development efforts towards the vision 2030 without leaving anyone behind," he said.
Dr Hamukale said this would ensure a diversified and resilient economy for sustained growth and socio-economic transformation driven by agriculture, tourism, manufacturing and mining among others.
And ZICA President Jason Kazilimani stressed the need for Zambia to reposition itself as the hub of industrialization in the region as it could no longer afford to lag behind.
Mr. Kazilimani also urged delegates at the conference to remain relevant to their profession by keeping up with global trends and technology.
"Accountants should also operate in tandem with the Smart Zambia campaign which President Lungu launched in 2016 and seeks to eliminate tedious and wasteful processes and procedures through electronic systems," he said.
He said the Smart Zambia Campaign promoted business technologies to ensure digital infrastructure remained relevant to modern business technologies in a global world.