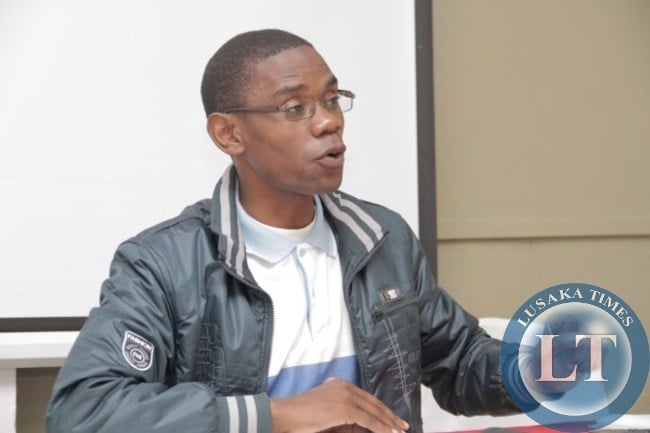 The Director of Public Prosecutions has today entered a nolle prosequi in a case where the Inspector General of Police Kakoma Kanganja sued Chilufya Tayali for Libel.
When the case came up for continuation of trial, the defence said, the DPP chambers was ready to continue cross examining the Inspector General, but Magistrate Felix Kaoma said the DPP had filed a nolle.
And Mr. Tayali later described Mr. Kakoma as the worst Police Inspector General Zambia has ever had
He said Mr. Tayali is a liability and must resign.
"The DPP has come to the rescue of the incompetent and inefficient Inspector General of Police, Kakoma Kanganja, Zambia has ever had, by entering a nolle in my case," Mr. Tayali said.
"The Magistrate told me that, I am free in the meantime, but I want Mr. Kanganja to come and arrest me again so that we finish this case once and for all. I have enough evidence to prove my case and I am not scared of him because this is my Country, as such, a stakeholder.
"Let Kanganja resign otherwise the President must fire him. i promise Mr. Kanganja that we are not done here, until he goes. My brothers and sisters, I am not being personal, but if you are a Tax payer and you are patriot of a Country which enjoys human rights and justice, you would agree with me that this man is a total failure as IG," he said.
Mr. Tayali stressed that this is not about politics or President Edgar Lungu but about a man who was given a chance and has failed to deliver and has become a liability to all.
"We can't compromise with security matters, Kanganja is a compromise. He compromised even the security of the President – HE MUST GO! The State can't continue covering the inefficiency and incompetence of the IG by entering nolles. It is because of the incompetence and inefficiency of the leadership in police that, we are having so many nolles and acquittals," Mr Tayali said.
He said the State are entering nolles in fear of embarrassment and compensation.
"With these nolles, where does one go for compensation for malicious incarceration and prosecution? How do I get back my money in legal fees? What about my maligned name and emotional stress? They should have allowed me to continue with the case so that I get acquitted because I have plenty of evidence to prove the incompetence and inefficiency of this IG."
"The State of emergency is almost coming to an end, but no arrests have been made (apart from innocent citizens they got from Livingstone) to the so-called saboteurs of City Market, yet the police have more powers as Kanganja demanded. This can't go on, this man must go!"
[Read 311 times, 1 reads today]