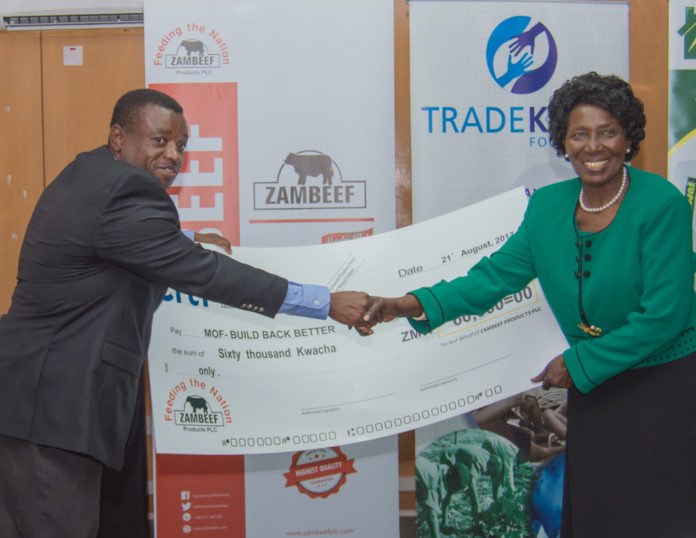 Zambeef has made a contribution of K60,000 towards the rebuilding of City Market under the government's 'Build Back Better' initiative launched by the Disaster Management and Mitigation Unit (DMMU).
Her Honour, the Vice President Inonge Mutukwa Wina received the cheque on behalf of the Unit and Committee of Permanent Secretaries tasked with the spearheading the project.
Mrs Wina commended Zambeef for the support rendered to the initiative, stating that the private sector remained an important partner in advancing the development agenda of the country.
"It is a job that will be a huge one for all of us and I'm glad that the private sector continues to render support to this initiative," she said.
The Vice President went on to highlight the many lessons that had been gleaned from the incident, citing environmental sustainability and function as critical factors being considered in the building of the new market.
Zambeef of Corporate Affairs Felix Lupindula expressed sadness at the loss of livelihoods, and goods, and the disruption to business experienced by those affected by the fire that gutted the trading centre earlier this year.
"Zambeef has been very concerned about the loss of livelihood and the damage caused by this disaster. We are affected by this disaster as a part of the trading family in City market and as a tenant," he said during a ceremony to present a cheque to the Vice President.
Mr Lupindula pointed to the fact that as a responsible corporate citizen Zambeef remained committed to promoting development through supporting various initiatives that deliver sustainable long-term results and real benefits to the communities within which it operates.
He noted that in addition to being trading partners in the market, the market traders, who it holds in high esteem, are also customers of the proudly Zambian food company.
"We hope that together we will overcome the difficulties caused by the disaster and have City market rebuilt soon."
The donation is intended to help the marketeers and affected families and to alleviate some of the challenges brought on by the incident.
[Read 102 times, 1 reads today]