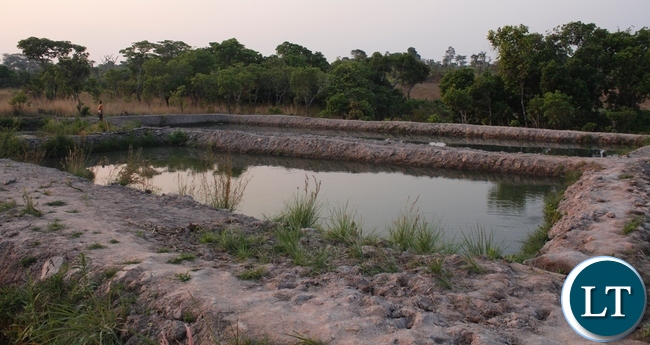 The Ministry of Fisheries and Livestock has embarked on a K150,000 rehabilitation project of Western Province's only government-owned fish farm located in Kaoma district.
Kaoma District Assistant Aquaculture Technical Officer, Cuthbert Mutakwa, said the objective of the project is to operationalize the province's sole fish farm and to enhance quality fingerling production.
Mr Mutakwa told ZANIS in an interview that the government-financed rehabilitation of the water weir at the Kaoma GRZ Fish Farm will be able to bring in water into the ponds without necessarily relying on the breached dam.
He said that the Kaoma GRZ Fish Farm was operational until 2013 when the dam ruptured after which the Fisheries Department started producing fingerlings naturally in ponds which were able to marginally sustain the fish farm.
Mr Mutakwa said that the rehabilitation of the weir which is situated on the Mahilo stream in Kaoma district will result in a water reticulation system that will help ease the flow of water into the fish ponds.
He said that though the facility is not yet fully operational, the Fisheries Department has started using the fish hatchery unit where it is currently breeding about 5,000 fingerlings as way of testing its viability.
Mr Mutakwa said that once the Kaoma GRZ Fish Farm is fully functioning, the number of fingerlings being produced will be scaled-up in line with the overwhelming demand and the fingerlings from the facility will be sold at 50 ngwee each.
He disclosed that Kaoma GRZ Fish Farm is the only one of its kind in Western Province and it will provide financial benefits to over 150 fish farmers in the locality as it provides nutritional benefits to the residents of Kaoma and neighbouring areas.
Mr Mutakwa said that the demand for fingerlings is expected to increase as the number of people interested in fish farming growing, particularly, with the heightened demand coming from the adjacent districts of Luampa and Nkeyema.
He said that government is targeting to finish the project before the rains intensify and the Fisheries Department is, therefore, seeking to complete the works by November month-end after which productivity is expected to be enhanced.
[Read 59 times, 1 reads today]