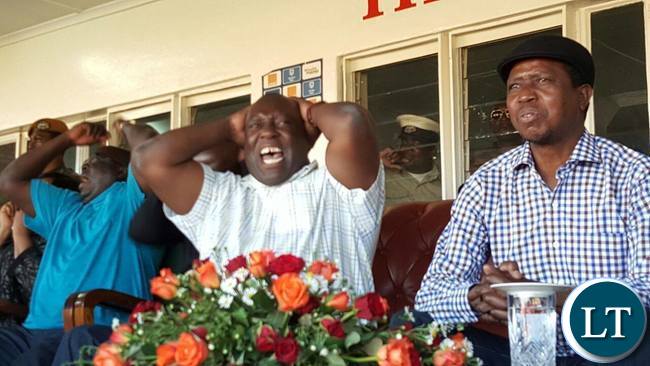 Last week Rainbow Party Secretary General Wynter Kabimba charged that Roan member of Parliament Chishimba Kambwili is too, too corrupt, to start championing corruption stating that he used to go round mines on the Copperbelt to ask for money when he served as Youth Minister and Labour.
"The late President removed him from Ministry of Labour because of corruption and extortion that he was involved in with the Chinese investors, he is a wrong chap," stated the Rainbow boss.
And Mr Kabimba has described allegations by Mr Kambwili that President Lungu has amassed questionable wealth within a short period of time as myopic reasoning.
"Who was Kambwili before 2011, GBM was our financial Muscle, I was Secretary General of PF remember, CK was just among our other Members of Parliament, he was no where near me in terms of political stamina, he was among those clique members after winning 2011 elections that started pointing figures at me. But thank God they all failed to become President of Zambia, they accused me that I was strategizing to takeover PF.
"The records clearly shows just like me he just joined PF from MMD, he even applied on an MMD ticket during the adoption process in 2001, he is not a founder member of PF he just joined," disclosed Mr Kabimba.
"So on corruption, Chishimba Kambwili is a wrong character to champion corruption. He is too corrupt to talk about it. Let him bring forth facts and details not just hearsay. If he did just that, I tell you, I will be the first one to join him," he emphasized.
"He has no evidence, if he had evidence like I do on him, then I am perfectly sure, in that evidence he will also be mentioned as a key player!"
Speaking when he featured on Radio Phoenix's Let the People Talk programme on Friday, Mr Kabimba said when he was Patriotic Front Secretary-General, he wrote a letter to Mr Kambwili warning him of his corrupt activities.
"He is on record together with Musenge to be among those people who were proposing that our late President gives us or sells us the Motor vehicles immediately we took over power in 2011 . Go to the bus stations on the Copperbelt, ask for Mwenya Musenge and his fleet of Rosa buses that he sold himself when he was Deputy Minister of Transport, these are wrong characters to talk about corruption. They are were they are because of corruption. They engineered it and benefited from it.
"I am [worked] from the Council, I do not have such prime land as the duo do, look at the prime land in Luanshya that they gave themselves in the first three years after we won the elections in 2011.
"He is too corrupt to become our saint to champion corruption. I was fired on my position but on my nomination, despite our late President saying I could continue, I said no thank you, I am resigning and I resigned from PF. He is still clinging to PF because he is too corrupt to let it go," said the former PF Secretary General.
"The Man has no credentials, his qualifications are highly questionable. Copper stone University does that University really exist. He is fighting punch for punch, teeth and Nail because he has not worked anywhere as a professional. To him politics is a small god.
"Kambwili is a corrupt man with a corrupt agenda for this Country."