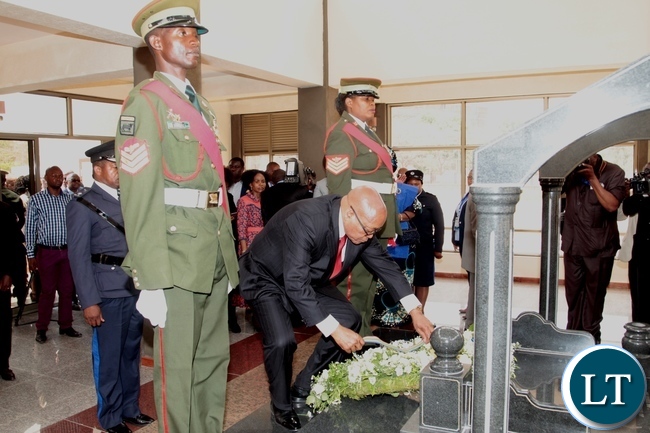 South Africa's President Jacob Zuma has paid tribute to Zambia's fallen presidents for their immense contribution in the democratization and development of the country.
President Zuma laid wreaths at the tombs of the three former heads of state at Embassy Presidential Memorial Park in Lusaka today to show strong ties between Zambia and South Africa.
He laid wreaths on the grave of Presidents Michael Sata, Levy Mwanawasa and Frederick Chiluba respectively.
The late Mr. Sata was credited for his infrastructure development, pro-poor and anti-corruption drive while Dr. Chiluba was recognised for championing democracy and Christian nation.
Dr. Mwanawasa was credited for having initiated a campaign to rid Zambia of corrupt practices.
President Zuma, who arrived in Zambia today, is on a two-day state visit and is expected to leave tomorrow, 13th October 2017.
The state visit will be preceded by a Zambia-South Africa Joint Permanent Commission (JPC) and a business forum.
President Edgar Lungu will during this time lead President Zuma to the former residence of former South African freedom fighter Oliver Tambo in Avondale.
From there, the two will proceed to visit another heritage site in Chilenje where President Kenneth Kaunda waged the final struggle for Zambia's independence in 1964.
And interactions between the two heads of state during the visit are aimed at deepening and strengthening the already existing good political, economic and cultural relations underpinned by strong historical ties that date back from the years of the liberation struggle.
The South African President was accompanied at the wreath laying ceremony by his wife Mrs. Bongekile Zuma, South African officials and Minister of Foreign Affairs Harry Kalaba.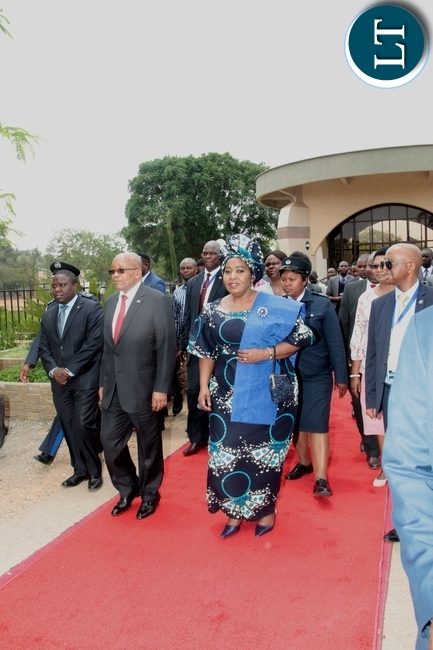 [Read 95 times, 1 reads today]