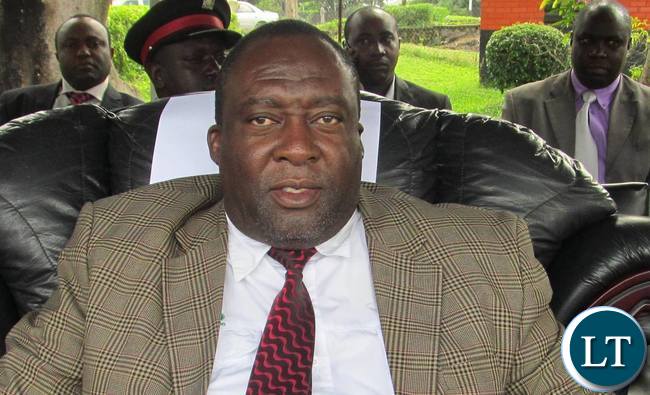 Former Copperbelt Province Minister and newly formed National Democratic Congress(NDC) secretary general Mwenya Musenge has said that his party will not be intimidated nor will it surrender. Reacting to the attack that left his vehicle smashed and its tires deflated, Musenge advised President Edgar Lungu to tame his cadres.
Mr Musenge said that no form of intimidation would deter his party from speaking for the majority Zambians who were fed up with the PF's style of governance.
"We will not surrender, we will not be intimidated; ine teyine naimbile ulwimbo Koswe Mumpoto [ I'm not the one who sang the song Koswe Mumpoto] that they should vent their
anger on me. Ba Edgar Lungu should take control of the nation, he has been preaching politics of non-violence in this country but meanwhile itis his cadres and members of the Patriotic Front who have been perpetuating the vice. This is one of the reasons the Zambian people have lost trust and confidence in the PF, trust and confidence in Edgar Chagwa Lungu," Musenge said.
"Ba Edgar Lungu ought to realize that he is not the first President and he shall not be the last President. We give him a lot of respect because he is the Republican President and my appeal to him is that he should take control of this country, take control of the nation, and take control of his cadres. As NDC, we are not going to be intimidated but our desire is to promote a peaceful nation, our desire is to see every Zambian enjoy their right of association, assembly and expression."
The former Copperbelt Minister further accused the Police of being toothless and compromised. He said he would not report the matter to the Police because of the stance the law enforcers had taken on the opposition members.
"The Police have also become compromised, 5FM is a stone throw from Lusaka Central Police Station yet they only arrived here two hours later. When they were planning this attack, the Police should have quickly known that there was something happening here. The cadres were strategically stationed here and when we were attacked, they took their time to come; over two hours, from a station which is only a minute away," said Musenge.
"It's for that reason that today I have protested and I am not reporting this matter to the Police; it is a waste of time. There are people they can respond quickly to and people they cannot respond and protect; and I want to believe that I am one of the people the police has no regard for as Zambian."