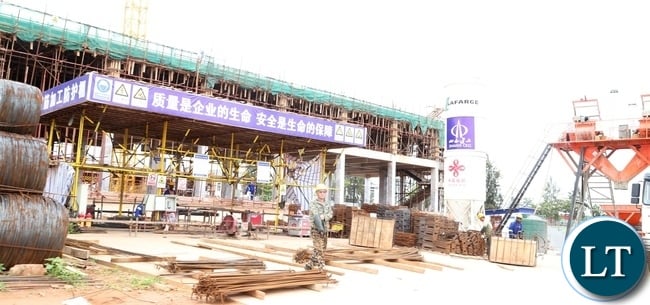 Health Minister, Hon. Dr Chitalu Chilufya has announced that the Medical Training institute which is situated at Levy Mwanawasa Hospital and being constructed at a total cost of 170 Million Kwacha is expected to open its doors to student recruitment in the first quarter of 2018.
"We are building a 3000 capacity training institute. It is an annex of the upgraded Levy Mwanawasa University Teaching Hospital. So there are two key Projects happening here . The expansion of the hospital into a 850 bed capacity hospital and also the completion of the training annex. And the aggregate is what is called The Levy Mwanawasa University Teaching Hospital," He said.
He stated that this would change the way human capital development in the health sector was being done because come first quarter of 2018, the first intakes of under graduates in various health sciences, including medicine would be enrolled.
"The total will be 3000 and some of them will be post graduate. So we are adding 3000 academic spaces for our under graduate and post graduates combined," He said.
He stated that this was a game changer as training of specialists would now be conducted which would increase the number of speciaists from 200 countrywide to more than 500 by the year 2021.
"That is our strategic intent. Clearly stated in our National Health Strategic plan," He said.
"So when we say the PF Government of His Excellency President Edgar Lungu has intentions and is firmly on track to ensuring universal health coverage for the 16. 2 Million Zambians, This is what we mean. We are fixing health systems begining with Infrastructure, Human Capital and the other variables. What you are seeing here is speaking to both infrastructure and human capital. We need the hands to deliver our women, to save our children and to provide a tertiary level care and we need to train this human resource in a robust manner," He added.
He stated that Zambias centrality as a country and its democratic credentials also qualified it to be the centre of excellence for training in the hub.
"As we speak, we are attracting students from the region. And the complexion of our cancer diseases institute for instance, constitutes students from Mozambique, Eritrea, Ethiopia and Malawi, e.t.c. And we will continue with that trajectory in the coming year. So Zambia as a centrally located country, peaceful in nature with good democratic credentials, is slowly becoming a centre of excellence in training and we will train here, a whole range of specialists,"He said.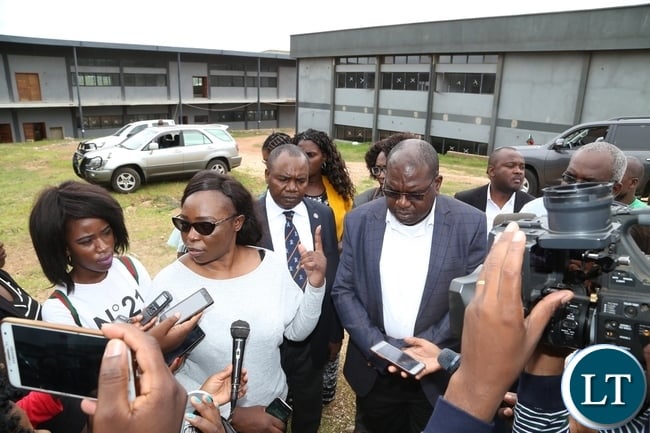 Meanwhile, Dr Chilufya has revealed that the faculty Staff were already available to work at the Medical training Institute in all the major disciplines.
" This we must remember. Earlier this year, President Lungu upgraded Levy Mwanawasa Hospital into a University Teaching Hospital. And this we have annexed to the university teaching hospital. We already have faculty staff. Our consultants are the ones that teach even in the university of Zambia School of Medicine. So we already have faculty staff in all the major disciplines and even faculty staff in the sub specialties. They are already ready, overly ready to start the academic programes." He said
"And I must give you comfort, the teachers who teach in the school of medicine where we all trained are the same teachers who will continue teaching here. Some of them will be teaching as part of the Ministry of Health Professorial staff and some of them as university of Zambia staff. In the Health sector, we have this family, this fratenity of practitioners who we use to provide both professorial and clinical services and we dont have to start establishing or looking for lecturers. We already have faculty staff and we will only bring in more to expand the cources, " He added.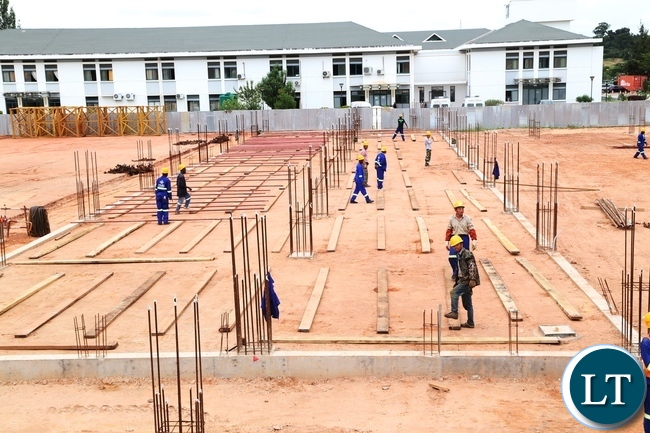 And Hon. Chilufya has stated that Equity has been embraced in the way the distribution of infrastructure was being done in the nation. When asked if Institutes such as the one at Levy Mwanawasa would be extended to other parts of the Country, the Minister said Universities were being built across the nation.
"We have been embracing the Principle of equity in the way we distribute development in this country. We have Universities being built in the northern part of this country. We have Robert Makasa University. We have Universities being built in North Western Province, Lewanika University is being built. We are expanding access to university services for Our Children. Because education is the bedrock and so we are planting these infrastructure for training in an equitable fashion, " He said .
"Countrywide , you will find structures to support education either in the health sector and other sectors. So the facilities that you see in various parts of the Country, some of them will also be training health workers. Some of them will be networking with this facility and will operate as compasses were certain programs will be done. We have established a Zambia college of medicine and we have accredited a number of hospitals in the Country. Minimum of 17, that are now conducting training in those facilities. We dont have to send our doctors , Our Nurses to come and specialise in Lusaka or on the Copperbelt. They are training right there because the institutions have been licenced, accredited and we have accredited trainers there. We are also associated with the college of Health Sciences in Southern and East Africa. So we have international recognition already and we are also working closely with other international organisations of repute in the academic world to ensure that the standards are high. So, we have a network of institutions. A network of hospitals countrywide that are part of the Levy Mwanawasa University Teaching Hospital and the Zambia college of Medicine and surgery. So training will be taking place there while the underwriting will be done centrally, " Said the Minister said.