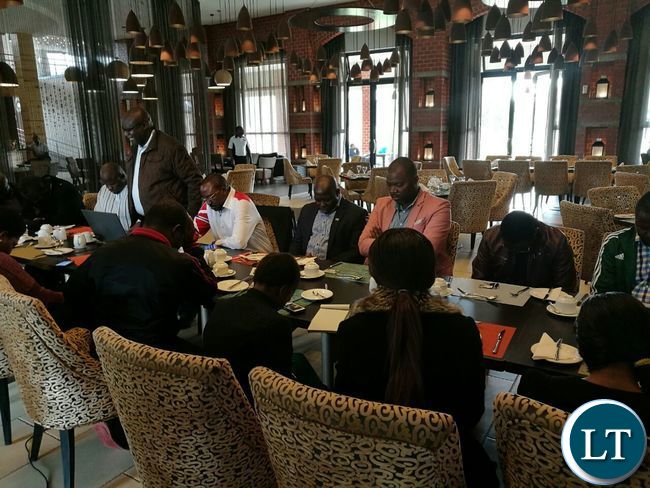 Chifubu constituency has put in place measures to stop the Cholera outbreak from escalating into an epidemic, area Member of Parliament Frank N'gambi has said.
Mr. Ngambi's revelation comes a day after the constituency recorded its first case of Cholera, a 28 year old male patient who is admitted at Masala Main Clinic Cholera Treatment Centre.
Health experts have informed the constituency office that the patient contracted the disease from within his area, as he has not travelled outside Ndola district in the recent past.
Mr. N'gambi said one of the steps that had been taken was collaboration among various stakeholders, and the immediate step that has been made is to shut down bars and taverns that do not have toilets within.
The Chifubu lawmaker said he had noted that continued operation of the bars will pose a hazard to the patrons, who will be disposing off waste indiscriminately.
He has also urged markets and bars to keep their surroundings clean and wipe out of possibilities of the Cholera outbreak.
Mr. N'gambi said other activities that have been put in place to tackle cholera have been centred on education, law enforcement and infrastructural development.
And Copperbelt province Permanent Secretary Bright Nundwe has urged all district Commissioners in the province to ensure that epidemic preparedness and structures are wll coordinated..
Mr. Nundwe said the committees should ensure well-coordinated and stocked with adequate epidemic supplies to be able to mount a quick response should any case of cholera be detected in the province..
Mr. Nundwe said in an interview at his office that committees should meet regularly to review preparations in light of provincial and national risk factors.
He further said the ministries of Health and Local Government and other stakeholders should strengthen prevention activities including dissemination of health information, community sensitisation, water quality monitoring, food inspections and inspection of markets and other trading places.
He has since advised the two ministries to strictly enforce hygiene standards as stipulated in the public health Act Cap 295.
Since October last year, the province has recorded three cases of cholera two of which were confirmed last year and the latest one being reported yesterday in Ndola.
Yesterday Ndola district health office admitted a suspected cholera case at main masala clinic which is the designated cholera treatment center in the district.
The patient- male aged 28, a resident of Chifubu Township is in a stable condition and is responding well to treatment.