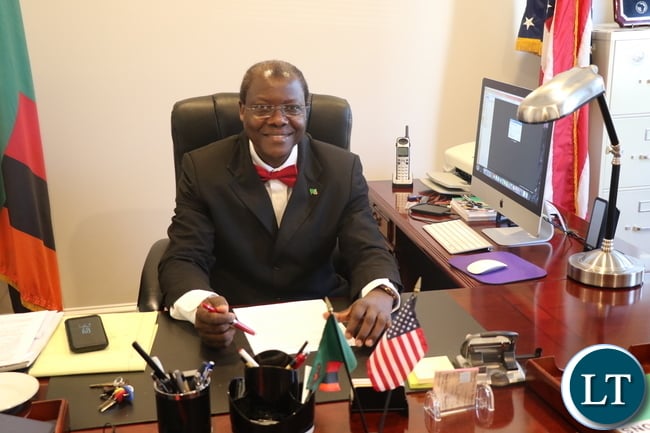 Zambia's Ambassador to the United States (US) Ngosa Sibyakula says Zambia supports the African Union's stance to harness the efforts of people of African descent all over the world to invest in African countries.
Dr. Simbyakula said the African Union diaspora division serves as the focal point and hub for implementing the decision to invite and encourage the African diaspora to participate in the building and development of the African continent.
He noted that the African diaspora in the US serves as a catalyst for rebuilding the global African family in the service of the development and integration agenda of the continent.
Dr. Simbyakula said this when Diversity Restoration Solution (DRS) President Eric Sheppard paid a courtesy call on him at the Embassy in Washington D.C.
Meanwhile, Mr. Sheppard announced that the African American diaspora in the US have started preparations to host the 2018 Africa homecoming joint planning tourism and trade conference to be held in the US in July this year.
Mr. Sheppard said the event is part of the preparations for the 400- year anniversary milestone of African descent coming to America.
He stated that Zambia has been selected as the hub for the global centre of restoration of the African American Diaspora in 2019, to introduce the African continent to massive business tourism, economic trade and restoration of cultural relationship with African countries.
The project dubbed "2019 Africa Homecoming Project" is being spearheaded by Diversity Restoration Solution.
The Zambian government has since, being proposed to build a multi-million dollar state of the art Restoration Centre Headquarters for Africa in Zambia.
The DRS is a business tourism and international project development firm specializing in linking together the US and African businesses and organisations.
This is contained in a statement released to ZANIS in Lusaka today by First Secretary for Press and Public Relations at the Zambian Embassy in Washington DC, Cosmas Chileshe.
[Read 13 times, 1 reads today]