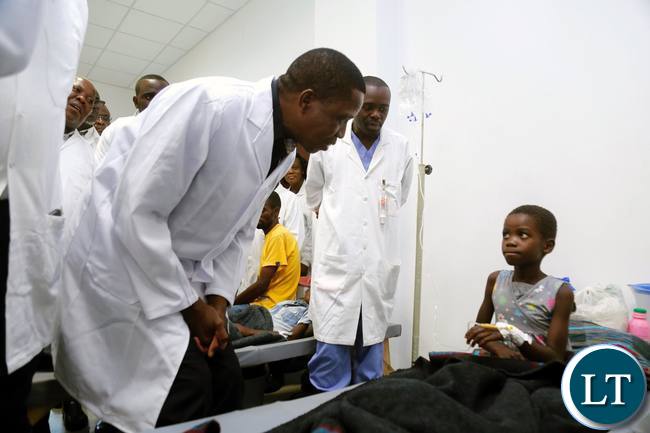 By David Kapoma
I have observed and listened with interest the sentiments that have been coming out of the PF especially from the senior leadership of the ruling party.
It seems as though there is more to what is happening than what our eyes and able to see. Senior members of the PF have criticised their party President directly or indirectly. Some of them have gone to the extent of blaming the head of state for the resignation of former foreign affairs minister Hon. Harry Kalaba.
I am not part of the PF structures and therefore will restrict my thoughts to what I have perceived according to what I see.
Years after late president Micheal Sata's death, we are being told that the late president was deliberately betrayed by his handlers. Sad indeed… But my hope is that president Lungu has taken time to read what was written by Hon. Alexander Chikwanda.
Hon. Chikwanda provided such deep revelation that could be a window of opportunity for president Lungu to examine himself properly. Maybe those close to President Lungu are not presenting facts to him as they are or the president is just being himself? But what about the intelligence, does it mean they are also not advising the president properly?
I am of a considered view that President Lungu needs counselling and the best counsellor is himself. He should allow himself to listen to that inner voice he has been avoiding for a long time. He knows from the bottom of his heart that something is wrong somewhere and something needs to be done NOW! Those who care enough must advise the president that he is slowly becoming too proud and that is very dangerous for him and this country.
It is an indisputable fact that most 'original' PF members who suffered in the opposition with president Sata are not happy with what is happening in their party. Their feeling is that the PF has now been hijacked by the MMD. Just few days ago President Lungu appointed two (2) former MMD members to full cabinet positions leaving those who have been in the PF long enough. 16 MMD members have been given positions in the PF central committee the highest governing organ of the party. I hope the president knows that his people are not happy with such decisions too. Otherwise the true greens are wondering in whose interest the president is making such choices.
The President must seriously reflect on the decisions he has been making before it is too late for him. In fact I wonder how president Lungu allowed Hon. Kalaba to resign just like that. It is not rocket science for one to understand that Hon. Kalaba was one of the most sober ministers in the current government. Good leaders never allow strong pillars to leave office just like that. He should have prevented from happening in one way or the another.
But the bigger question is whether President Lungu is listening to the cries of the true greens or not? Those who are genuine PF members have avoided attacking Hon. Kalaba in any way, something which indicates that they still have respect for him. Only fake PF cadres have been paid small amounts of money in Luapula and Northern province and told match in solidarity for president Lungu.
Members have been leaving the PF and politically that is making the PF weak, you like it or not that remains a fact. But why does president Lungu seem not to care much about those who are leaving and the reasons being cited for leaving the mighty PF? I know that the president thinks he has no strong opposition but he must now know that the bigger opposition he will soon have to deal with is those leaving the PF. They know him better and they are capable of touching where it may hurt so bad.
As I conclude, I wish to remind President Lungu and those close to him that time always comes when political power is passed on to the next person. You won't be in power forever. Be cautioned therefore that every decision you make, every Zambian is watching.
[Read 70 times, 1 reads today]