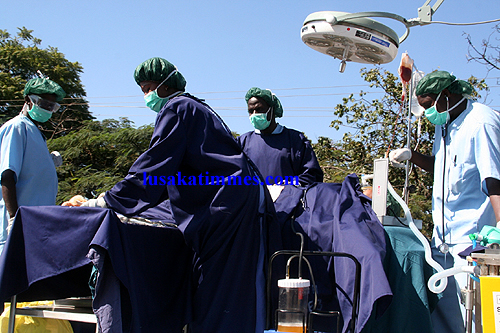 Dr 'Satisfactory' M.D—An impostor in the system
The Zambian education system like any other system in the world has limits. Usually, the results obtained in high school by a student in any country go a long way in reflecting the comprehension abilities of those that the results belong to. Although a good number of people have gone on to do the impossible even after not doing so well at high school level, high school results still form a cardinal basis through which students are picked to choose the careers they will be able to manage and venture into in future. Imagine having a child you know is not good in Math at all, then because you as a parent believe they can do it you force them to do a course that is keen on Math. By doing this, in so much as you want the best for your child, when you choose to ignore however what their report cards constantly tell you, you might actually be doing the child a disservice.
In the recent number of years, Zambia has seen a great increase in the number of Medical doctors been trained both in Zambia and abroad. This spike in the so much needed health personnel is very good for the country on one hand and something that many have been looking for for a very long time so that the large doctor to patient ratio in the country is reduced. The mushrooming number of Medical Universities or Universities offering Medicine in Zambia coupled with the opening up of Chinese universities and/Russian, Ukraine universities to accepting hundreds of Zambians to study medicine in their countries has created an exponential increase in the number of doctors the country will have in the near future–A positive projection for the health sector of the country; but is it?
Those graduating with MBBS (MBBS: Bachelor of Medicine Bachelor of Surgery) degrees are doing so in hundreds today due to the many Zambian universities now operating and many also from Chin, Russia etc. Chinese Universities for example accept hundreds of Zambian students in every intake. Currently, it is not strange at all to find over one hundred Zambian students pursing medicine at a single university in China today. Statistics reveal that there are over one to three thousand Zambians pursuing their studies in China currently and most likely over 60 percent of them are studying medicine, the statistics are about the same even higher for Russia.
For a long time, doing medicine in Zambia has been seen as a preserve for the most elite. It is only the most intelligent of minds that go through the University of Zambia and make their way to the prestigious University of Zambia's Ridge-way campus– the incubator of the most brilliant of minds that are conferred with the title of 'Doctor' at the end of a rigorous seven year training period.
In Zambia, a person with an average of 11 points and above at grade 12 level stands very little chance of entering into medical school especially at the competitive University of Zambia and the Copperbelt University. Anything above the 10 points mark reduces the chances of one doing medicine by great margins. It is no wonder that if one were to go to the University of Zambia Ridge-Way campus or the Copperbelt University today to check on the results of those doing medicine, they would find that almost everyone had done extremely well in high school and their comprehension abilities were very high. As a result of this long tradition, the Zambian medical personnel has for a long time been a respected lot.
Today, private universities, China etc however have changed the game— The mushrooming number of doctors despite it being good on one hand has also to a great degree resulted in the quality and tradition that has been followed in Zambia for a long time of selecting the cream of the cream to do medicine being compromised highly. It is no-longer odd to find a person who had very bad grade 12 results being 'ordained' as a doctor from some university somewhere. The new crop of doctors has a number of people with compromised grade 12 results which for a long time has formed a basis in the country for understanding the basic reasoning and comprehension abilities of students. The writer has come across student's papers whose results have a credit as the highest mark while the majority of their grades are just 'satisfactorys' doing medicine today.
BREAKDOWN OF THE ZAMBIAN FINAL EXAMINATION GRADING SYSTEM IS AS FOLLOWS
| | | |
| --- | --- | --- |
| Percentage | Grading | Reflected |
| 75 | Distinction | 1 |
| 70-74 | Distinction | 2 |
| 65 to 69 | Merit | 3 |
| 60-64 | Merit | 4 |
| 55- 58 | Credit | 5 |
| 50-54 | Credit | 6 |
| 45- 49 | Satisfactory | 7 |
| 40- 44 | Satisfactory | 8 |
| 0-39 | Unsatisfactory | 9 |
The highest number and best points a person can get is 6 points, that is an equivalent to six first distinctions in all 6 subjects. The average number of subject combination used in entering universities is a six subjects combination. Those that get these would have worked very hard and proved to be able to cope and do very well in almost every one of the six subjects they took.
At the university of Zambia in particular, a person who obtains points that are above 10 points will find it very hard to first of all even make it into the stream of those that would go on to stand a chance of entering medical school as the system first requires people to do a year of A- levels from which the very best are selected.
Today, with it not being odd to find a doctor who definitively stood no chance of entering the University of Zambia with a subject combination that would be largely made up of anything above fives etc being admitted and presenting medical school qualifications, it must raise a lot of questions if indeed grade 12 results are a true reflection of one's comprehension abilities and whether or not a doctor with bad grade twelve results should really be questioned on how they made it into medical school despite the high school results showing an 'orange' light. The bulk of those students with papers coming from overseas now sometimes present with very bad high school results on one hand then excellent university results on the other. In terms of them being able to execute their job as medical personnel however, for some or a good number of them, the quality is very questionable and least to say years behind that of the crop trained locally.
There is certainly goodness in the increase in number of doctors but the sad part is that a good number of these students have high school qualifications that reflect low comprehension skills at grade 12 level and making it worse, prove to most times still have challenges in basic comprehension at senior level even when they are health personnel. Such trends in people joining a noble profession such as medicine with results at high school level that are extremely bad, then presenting medical papers that are unrealistically good which is a good thing for them in itself but then coupled with very low abilities to execute the duties of a doctor or even understand very fast with the excellence and nobility that the profession demands raise 'eye brows'.
It is therefore important for the authorities to create systems that will really assess students not just based on the qualifications they present with but also their ability to execute their job because it is evident that some systems that governed quality have a 'fault'. If it be that a six month to one year compulsory preparatory period of indeed a much more comprehensive exam is established for 'quality control' of our future doctors is established, we will as a nation then go a step further in raising a generation of doctors proud of their profession and able to pass on this pride and nobility to the next generation.
SOME AMONG US ARE NOT OF US, THEY ARE IN FOR THE MONEY AND NOT THE SERVICE TO WHICH WE SWEAR. SOME AMONG US ARE NOT OF US, THEY BOUGHT PAPERS AND DID NOT EARN THEM. SOME AMONG US ARE NOT OF US, THEY SIMPLY DO NOT REPRESENT AND HAVE THAT LOVE FOR MEDICINE.
There are impostors in the system. A possible break in the nobility and excellence medicine demands.
By Loyal Lusaka Times follower.
[Read 179 times, 1 reads today]