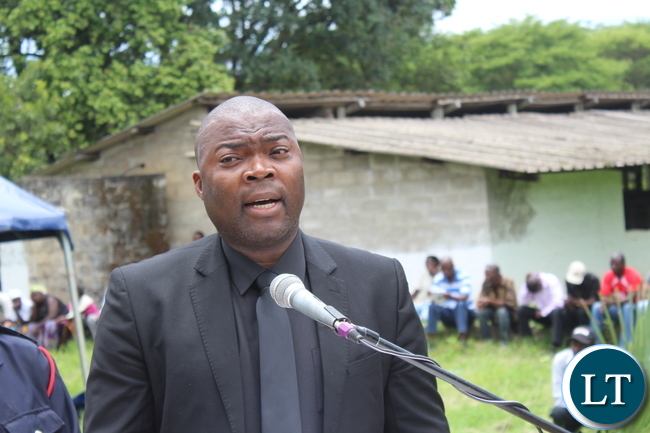 Copperbelt Province Minister Bowman Lusambo has directed water utility companies operating in the region to improve their service delivery.
Mr. Lusambo said his office has continued receiving complaints from customers concerning the poor service delivery by water utility companies in the province.
He alleged that water utility companies are failing to deal with issues such as blockages, leakages and sewer pipes but expect the central government to do these 'small things'.
The minister said this during his 2018 first media briefing at his office today.
"As provincial administration, we have declared 2018 as a year of action. We will not tolerate a laziness attitude by mayors and town clerks when dealing with provision of services to the people in the province," he said.
Mr. Lusambo wondered why local authorities were failing to maintain cleanliness in their towns which he said should have been part of their routine duties.
He said as a measure to ensure cleanliness is achieved, he will soon embark on a programme of making impromptu visits to councils.
He said the Mayor of any council that would be found wanting will be held responsible.
"And to all the civil servants in the province, I expect high levels of professionalism, loyalty in your duties. I will not accept politicking but service to the people," Mr. Lusambo warned.
He said civil servants are expected to work with his office and that of the Permanent Secretary in order to deliver to the expectation of the people in the province.
And Mr. Lusambo has thanked the defence forces and the health personnel in the province for cleaning the central business district (CBD).
He said the cleaning of the CBD has contributed to putting the cholera epidemic under control.
Meanwhile, Mr. Lusambo announced that the Copperbelt provincial administration will soon launch an investment audit for all mining companies in the province to ascertain the levels of investments the mining companies have made.
"As government, we have realised that some of the investors have not made any substantial investments in their operations as they have not brought any new equipment or technology but are retrenching the workers," the minister said.
He added that the investment audits, which will be done with officials from the Ministries of Mines and of Commerce, would confirm the level of the foreign direct investment in the Copperbelt province.
[Read 10 times, 1 reads today]