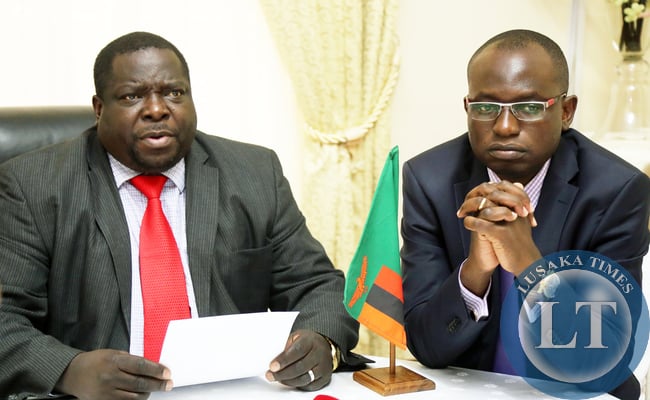 Roan Member of Parliament Chishimba Kambwili has sued State House Spokesman Amos Chanda for defamation
But Chanda has reacted to Mr. Kambwili's legal challenge by stating that the Former Minister has no reputation worth protecting in the first place.
"I have received a Writ of Summons from the High Court of Zambia moved by Chishimba Kambwili, who is seeking my appearance before the Court within 14 days of service in a suit where he alleges that I have defamed" reads the letter written by Mr Chanda to his lawyers Messrs Eric Silwamba & Co.
Mr Chanda further explains that though the writ of summons are dated 8th December, 2017, and accompanied by a Certificate of Urgency, he was only served on 15th January, 2018 and that the matter comes up on 7th February, 2018.
"In his affidavit in support of Summons, Mr. Kambwili seeks among other things, an interlocutory Injunction to restrain me from defending myself, the president and the Government against his incessant, malicious and baseless falsehoods upon which he decided to build what already seems like an ill-fated bid for the Presidency given the extraordinary depths to which he has sank political discourse in a mistaken view that the public supports his rantings and foul language against others," said Mr Chanda.
Mr Chanda has since instructed his legal representatives to enter the defence of justification and fair comment on matters of public interest so that he can aver before court, that Mr. Kambwili cannot come to equity with dirty hands and that his [Kambwili's reputation] is soiled that it is not possible to lower it any further.
He has also directed his lawyers to show to court that Mr. Kambwili's action is an abuse of the court process.
The lawyers have also been instructed to proceed to counter demand against Mr. Kambwili's many falsehoods which has issued against Mr Chanda.
"He claims that his credit and reputation have been brought into scandal, odium and contempt in the eyes of right thinking members of society and therefore, I must be gagged so that I do not say anything abut him as he proceeds on an onslaught against me and others."
"…His decision to run to court to seek garging orders against his victims who have decided to defend themselves is nothing but typical of his cowardly acts when he is called to account. His action is also an abuse of the court process to buy him time as he proceeds to willy nilly character assassinate others."