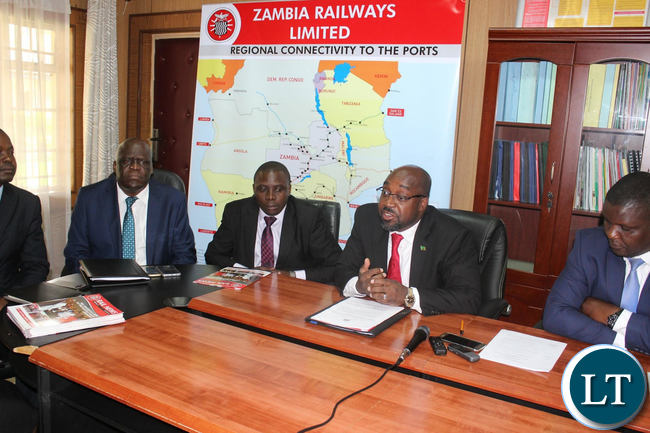 The Zambia Chamber of Mines has charged that government's move to introduce a new Statutory Instrument that will compel 30 percent of bulky and heavy cargo to be transported by rail is retrogressive.
In a statement, Chamber Deputy Chief Executive Officer Talent Ng'andwe said the SI is punitive in nature and focused on imposing sanctions, including custodial sentence on non-compliant companies despite the concerns raised by stakeholders on the state of Railway infrastructure in Zambia.
Mr Ng'andwe said "Though, we acknowledge that consultation with the Mines by the Ministry of Transport and Communications did occur, the Mining Industry position has been ignored; all rather unsatisfactory.
He said despite sector representation, the legislation has seemingly been forced-through.
"The Copperbelt rail infrastructure in existence is in poor repair, lacks capacity, lacks adequate security provision; and certainly lacks resilience.  Moreover, it's not a minor detail that the North Western Province mines have no access to a serviceable railhead closer than Chingola," Mr Ng'andwe said.
He said the Industry views the SI as potentially retrogressive to commerce, trade and industry in Zambia.
Mr Ng'andwe noted that insufficient infrastructure exists to make this piece of legislation workable without imposing punitive costs onto Zambia's principal means of generating revenue adding that the new law is economically inappropriate and unworkable.
"In order to maximize the value to a macro-economy the decision-making process for how to freight goods should be driven by the following parameters:
• Economics – promoting the most cost-effective solution is important; especially when logistical costs are expensive (as is the case for Zambia, a large and landlocked country) and where the margins of many businesses remain thin. Due to the large distances involved, the relative costs of logistics in the copper mining industry are significant.
• Reliability – the nature of the mining business (where the required capital cost investments are very high) is such that the reliability of logistics is essential. Mining and processing operations are dependent on the regular and reliable supply of inputs such as fuel, sulphur, coal, mill balls etc; without which operations would cease.
• Flexibility – there are many variables in the mining industry. Customers are fickle; it may become necessary to ship from different ports at different times due to commercial or political reasons. Railways in particular, are fixed and often a route is dependent on a particular piece of infrastructure (such as a bridge) or border post which becomes a critical point in the logistics chain. For example: in the event that a bridge is damaged or even destroyed; or a border post becomes inaccessible, then it is critical that an alternative route be found. Road trucks provide this flexibility."
He added, "In the interest of a free-market where competition is allowed to flourish and so promote efficiency, the Mining Industry feels that rail freight should compete on a level playing-field with road transport without the unfair advantage of enforced quotas. To compensate for a lack of flexibility, rail transport must offer increased reliability and better economics over road."
"In Zambia, in the current operating environment, there is no evidence that the economics of rail will be better than road – sample rates are not provided. Indeed, on first-look it seems most likely that rail freight will be a costlier option that road freight. Furthermore, currently there is no evidence to suggest that rail reliability will be superior to road transport reliability," Mr Ng'andwe.
"Impact of a Rail Quota on the Transportation of Copper Anodes and Cathodes in areas without Rail Infrastructure This will result in copper having to be road hauled to the nearest siding where it is transferred to rail, which in turn will result in additional costs for the road haul; double handling of material; increased risks for theft of cargo; hence an impact on insurance premiums. The transit time for rail in Zambia is also very challenging."
He said for this reason, the Chamber calls for a review of this SI and allow for more considered analysis of the effect on business and the national economy.
"The mining sector would of course wholeheartedly support re-development of the Zambian railways by Government.  But this SI contributes nothing to that development and is decisively investment-negative. In sum, this SI is not symptomatic of a Nation whose economic pillar is largely dependent on mining. It must be revoked or redrafted with substantial changes," Mr Ng'andwe said.
[Read 71 times, 1 reads today]