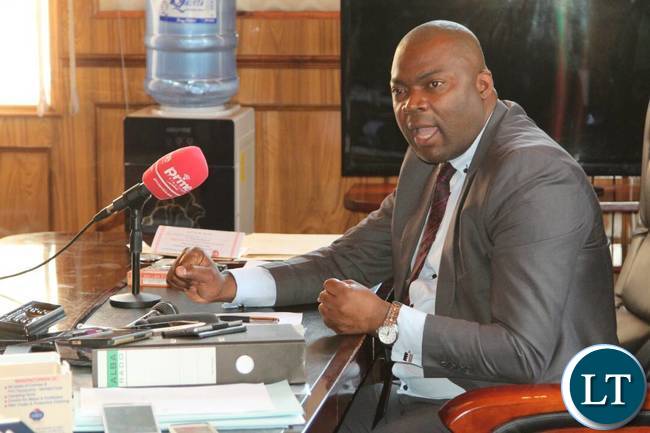 Copperbelt Province Minister Bowman Lusambo has charged that UPND leader Hakainde Hichilema has no moral authority to discuss privatization.
Mr Lusambo said it is ironic that Mr Hichilema whom he described as the Chief of Privatisation could point fingers at innocent people with regard to privatisation.
He was commenting on Mr Hichilema's attacks on President Edgar Lungu that the PF government has started selling off key state assets including some national game parks.
Mr Lusambo said " every Zambian knows that HH and privatisation belong in the same sentence. It therefore follows that accusing President Lungu of wanting to privatise Zambia is the highest level of hypocrisy that could come from Mr Hichilema," he said.
"Our people in Luanshya have not forgotten the role that Mr Hichilema played in the messy privatisation exercise. The good people of Chingola have never forgotten how Anglo American bolted in the thick of the night leaving thousands of our Zambian miners stranded. The beautiful people of Livingstone are still wondering how a Consultant for the Zambia Privatisation Agency ended up becoming Board Chairman of Sun Hotels with a hefty stake in the tourist operation after he oversaw its privatisation."
Mr Lusambo said all these people and their families are still searching for answers from Mr Hichilema on how he used his connections to benefit himself and use these benefits to open offshore accounts which have never benefited Zambians.
"These questions have never been answered by Mr Hichilema. Any Journalist who attempts to ask him how he became rich is met with high temper and arrogance. My advice to Mr Hichilema is that he should use days like Sundays to reflect on his life and asking for forgiveness from his maker for the misery he caused on innocent people," he said.
The Copperbelt Minister stated that attacking President Lungu who is so focused on delivering development to all parts of Zambia will not give Mr Hichilema any political scores.
"Zambians know that when Mr Hichilema was busy privatising state assets, his new partner in insults Chishimba Kambwili was also busy stripping rail slippers. These are not the leaders that Zambians would even want to waste their Sunday listening to," he said.
"My only advice for Mr Hichilema is that he should take a closer look in the mirror because i know that what he will see will be clear enough to compel him to finally shut up!"
[Read 13 times, 1 reads today]