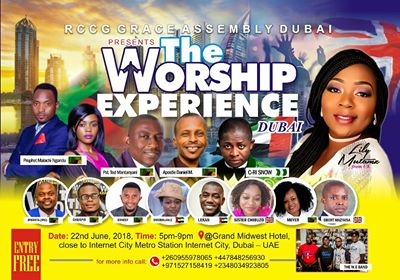 UK based, Lily Mutamz is set to host The Worship Experience in Dubai, UAE. Lily Mutamz, who is a gospel singer was in Zambia in December 2017 and successfully launched The Worship Experience.
Lily Mutamz told Lusaka Times "When God told me to start the Worship Experience, it seemed impossible but hosting the first one in Zambia was a ground breaker and now we are taking this powerful experience around the world". Lily Mutamz says this vision will enable those 'unknown' to the world to deliver the gifts that God almighty has deposited in them.
Among those travelling to Dubai from Zambia are Prophet Malachi Ng'andu, Pastor Teddy Mantanyani, Apostle Daniel Mkandawire, Mwanta (the official M.C), Enerst, Meyer, Justin, Morgan Chishala, The Band and choir Lily formed. This event has attracted international delegates from Countries like Zimbabwe, South Africa, Nigeria, Malawi, U.S.A and the UK. On the list from the UK there is Sister Chibuzo, Obert Mazivisa, then Nigeria Cris who is Lily's music video director will be there as an MC all the way from Nigeria and in the UAE we will be having Lekan and Omobolanle.
Lily Mutamz mentioned  "as soon as I shared that I was going to Dubai, my phone never stopped ringing, so far over 100 people have registered interest from the countries mentioned and preparations for group travel have began!" This event is in partnership with the Redeemed Christian Church Grace Assembly Parish in Dubai, which is Lily's sister church, she fellowships at Redeemed Church Living Proof PARISH in Stockton-On-Tees. Lily Mutamz has stated that the team in Dubai is very efficient and that people will have a glorious time if they attend the event. I have plans of hosting The Worship Experience in many countries around the world. Lily Mutamz who is set to shoot her music videos in Nigeria this month shared that Doors around the world have began opening and that those that wish to join on any of the event should look out for announcements on her Facebook page Lily Mutamz. The event is absolutely free to attend.
[Read 44 times, 1 reads today]