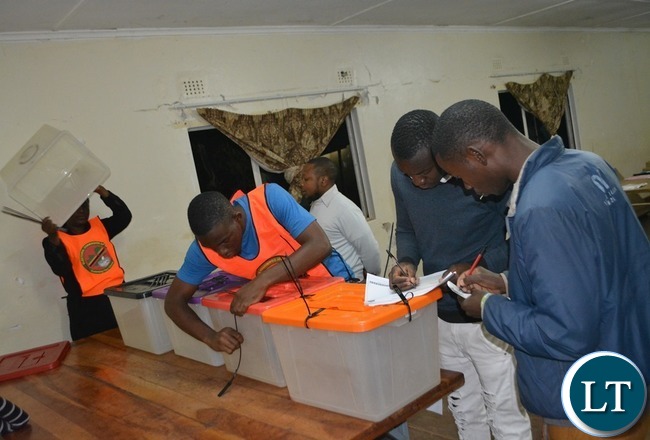 The current debate over how many times one can contest presidential elections should not be politicized if we are to nurture democracy in our nation. The Bemba have a saying that akafumber ukunona kafuma ku bwaice–meaning the "fat of the mice begins from childhood." Simply ask my foolish cousins from the East—they know better.
Zambia can be a model of African democracy, but this should begin with the democratization of our democratic processes. As long as political parties remain personal tuntembas, we are nurturing dictatorship. This is the truth that the nation must face.
We now have term limits for most of our institutions including the presidency—something that has forced opposition leaders to question if Lungu can contest the 2021 elections. Such term limits must be enshrined in political parties as well. Proposing it isn't an attack on any political party, but the same cancer that kills African democracy.
African opposition parties are run as personal tuntembas—it is all about mwine mushi! Let us start with Uganda, Mr. Kizza Besigye has continuously contested and lost four elections to dictator Yoweri Museveni. Aside from many arrests, Basigye has not opened his party presidency to young politicians who would woo the hearts of many Ugandans. Cross over to Kenya—Mr. Raila Odinga has been on the ballot since 1997. Aside from declaring himself the president of the people in January 2018, Odinga has failed to open his party to new and energetic leadership to contest presidential elections. In Zimbabwe, it is the same story—Morgan Tsvangirai has been on the ballot since 2002—only severe illness or death (God forbid) would force the party to look for new leadership. It is this tradition that propels ruling parties into power—opposition politicians are nothing but dictators awaiting their time to rule the nation!
African opposition parties don't understand politics 101. They believe that after many tries, they would one day become presidents—which is possible by divine appointment. But such reasoning ignores the fact that elections are like soccer. If you play the same unchanged team for every game, the opposition would know how to play it. Good coaches surprise their opponents with fresh players—it is called reading the opposition.  This is because knowing your opponent gives you an advantage—the same with politics.
Generally, ruling parties know so much dirt about the opposition candidates—they know their strongholds as well as their weaknesses. I have repeatedly said HH is a great guy, but PF (as did MMD) know his strongholds – Southern and Western Province. But UPND can easily change this map if its presidential candidate was from another province. It is called growing your road to victory.
HH and GBM are valued for their monies, as one UPND neighbor told me in Mansa. But if money made presidents, he would be one by now. I believe that UPND has very bright minds that would bury PF in 2021—but the party has remained hostage to HH-GBM cult. I am not saying that the duo cannot win the elections, by divine intervention they could. But my question remains—is UPND, HH and HH, UPND? UPND would have a new leader should HH die (God forbids) today. I know that some people don't see the sense of this question, yet it is critical to democracy.
We cannot expect HH and GBM to rule as democrats once they are at the helm of power—far from it. Democracy begins or dies at home—in our political parties. We saw this with UNIP, then MMD and now PF. Unless democracy is nurtured in opposition political structures, our democracy remains what I have termed in my book Raised Hopes, Shattered Dreams, "elected dictatorship." Differing with the supreme leader means losing your seat in parliament.
I personally find it unfair for the opposition to accuse Lungu of ruling as if Zambia belonged to him, while ignoring their own undemocratic structures within their own parties. They too rule their parties as personal tuntembas. Is it not Jesus who said, "why worry about a speck in your friend's eye when you have a log in your own? (Matt 7:3) Only hypocrite, Jesus said can do that—and so is our politicians!
As a nation, we must move beyond tuntemba-politics for nurturing democracy is our task—let us put in place systems that aid the development of democracy in the nation. In the 1990s, we laid foundation for democracy—it is now time to do so for future generations. It is on us to do the right thing—we must nurture democracy at all levels of our political processes.
Opening political space in political parties would allow presidential aspirants to know how to negotiate political differences long before they become presidents. Because our current system is closed, party presidents and our presidents are supreme leaders – to disagree with them is a capital offence that kills one's political career.
This system would demand change in the way presidential elections are funded. We need a political system that would fund presidential elections for all political candidates who meet certain standards. We must also open space to fund elections on the party level. Where would we get the money for such a system?  The answer is not whether we have the money, but whether democracy is critical to the future of our nation. Money is secondary—it can be found.
By Rev. Kapya Kaoma
[Read 22 times, 1 reads today]