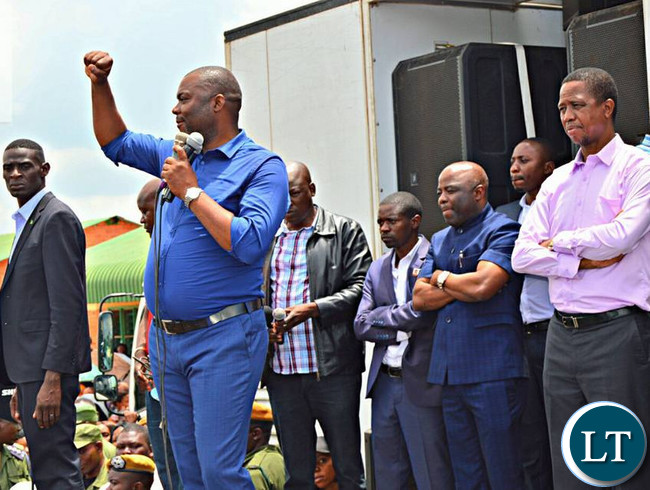 Copperbelt Minister Bowman Lusambo has described the latest visit of President Edgar Lungu to the Copperbelt as highly successful.
Mr Lusambo said the presidential visit has given momentum to the provincial administration to accelerate the development programmes in the province.
He said the three day tour also presented an opportunity to ordinary residents of the Copperbelt to interact with the Head of State.
Mr Lusambo was commenting on President Lungu's three day visit to the Copperbelt from Friday which was concluded on Sunday afternoon.
"For us as the Copperbelt administration, we are pleased that the tour was highly successful. President Lungu inspected a number of developmental projects but most significantly, he was able to meet ordinary people and hear their challenges," Mr Lusambo said.
The Copperbelt Minister stated that the presidential grassroot tours are essential for project monitoring and ensuring that the wheels of development are turning.
President Lungu kicked off his visit by officiating at the ground breaking ceremony of the first ever PF Provincial Convention Centre in Ndola and proceeded to Masala Township where he inspected the serious sewer problems in Lubutu area.
President Lungu was not happy with sanitation conditions in Masala Township despite investing US$104 million from DANIDA in the sanitation improvement project.
The Head of State then directed Mr Lusambo to resolve the sewer problem and handed a week ultimatum to ensure that all blockages and drainages are unblocked.
President Lungu then proceeded to Masala Main Market and toured the main market and other houses within main Masala and addressed a huge crowd that came to catch a glimpse of him.
President Lungu also visited Mufulira district where he inspected staff houses at Mokambo border post.
He was pleased to see the quality of houses and he promised that the nice houses given to the workers there will be replicated with nice offices such as the police posts and immigration offices.
President Lungu stated that the Ministry of Home Affairs will have 12,000 staff houses constructed for workers under the Ministry.
The Head of State further stated that the immigration offices at Mokambo need to be modernised and fitted with e-facilities.
President Lungu later proceeded to Mufulira town where he inspected two Markets, the town Market and Kamuchanga Market where he was not happy with the findings in the two markets especially that the market construction project had stalled.
President Lungu also commissioned the ZAFFICO pole treatment plant and visited Kalulushi Clay Brick Factory.
He later officiated at a sold out PF Provincial fundraising dinner in Kitwe at which millions of Kwacha was raised towards the construction of the PF Provincial Convention Centre.
President Lungu also attended a church service at UCZ Chimwemwe congregation in Kitwe and the congregants were excited to see President Lungu return to his home Church.
The Head of State was happy to meet one of his teachers during his Boy Scout days.
[Read 6 times, 1 reads today]