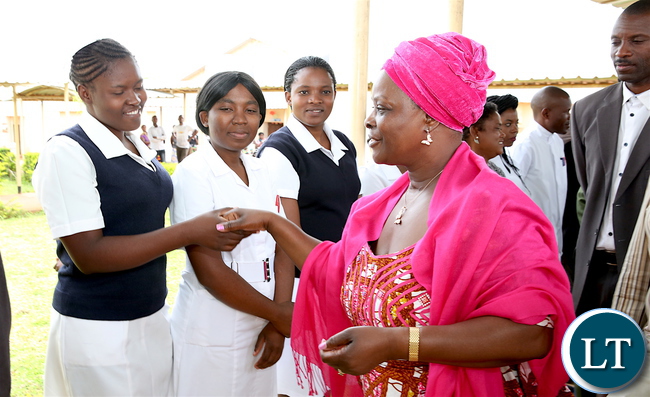 First Lady Esther Lungu has arrived in Nyimba District of Eastern province where she is expected to be engaged in a number of humanitarian and charity activities.
The first lady upon arrival reiterated the need for the private sector to continue supplementing government efforts in delivering development to the people of Zambia.
Mrs Lungu speaking during a briefing yesterday at Titana Lodge where she was received by Eastern Province Permanent Secretary Chanda Kasolo and other senior government officials, said herself as mother of the nation and President Edgar Lungu do not have the resources to change the lives of Zambians if those with such, cannot partner with government.
Mrs Lungu commended Nyimba Investment Company of Nyimba district who invited her to the district for the continued humanitarian works it has been offering to the locals and those beyond.
She said it is gratifying the company continues to identify needy areas affecting ordinary people and that government will always welcome such assistance.
Mrs Lungu also assured that the Esther Lungu Foundation Trust will continue to be transparent and accountable with whatever assistance is given to the organisation to manage and deliver to these intended to benefit.
She pointed out that long life and healthy living is what can only translate into meaningful development.
Speaking earlier Nyimba Investment Director Sukaina Patel informed the first lady that her company remains committed to carrying out charity works which uplift the lives of the poor.
She said her company felt it was important to first consider assisting communities where the company is based before channelling the help elsewhere.
Ms Patel stressed on the importance of the private sector to always remember to assist government in whichever way they can as part of their cooperate social responsibility.
Ms Patel said the company together with Esther Lungu Foundation Trust during the First lady's visit has set aside donations of educational and health equipment and materials to benefit Nyimba district hospital and three government schools in the area respectively.
And Nyimba District Commissioner Colonel Peter Kaisa welcomed the first lady and thanked her for finding time on her busy scheduled visit the district.
Colonel Kaisa said the district remains indebted to the administration of President Edgar Lugu as Nyimba has now changed to become a modern town where it is now a beneficiary of development and other social services which are transforming the lives of the locals.
The first lady during her visit will make donations in Nyimba district to different organisations and carryout other outreach activities
[Read 51 times, 1 reads today]