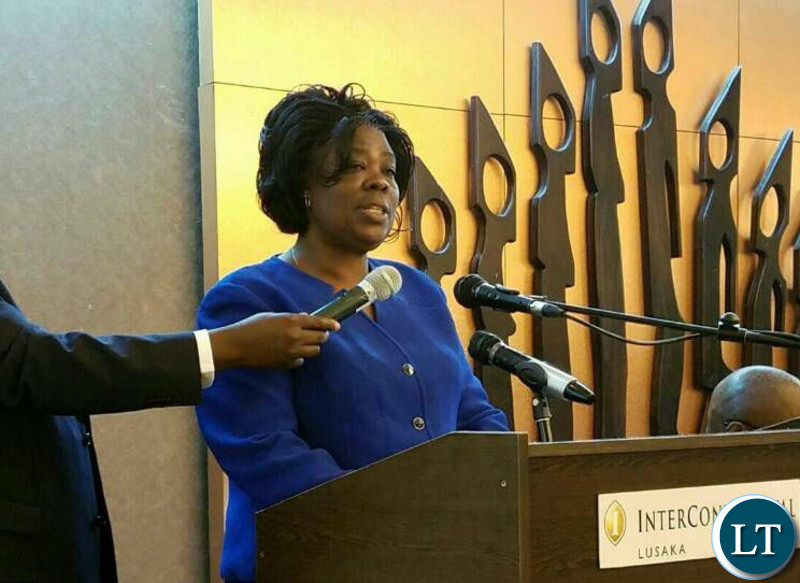 Minister of Lands and Natural Resources Jean Kapata has stated that it has taken over 10 years to arrive at the stage where the draft National Land Policy is at now.
Speaking at the National validation meeting for the draft land policy at Intercontinental Hotel in Lusaka this Morning, Hon. Kapata stated that the journey dated as far back as 2006 when following wide consultation, a first draft of the policy was developed.
"As you may all be aware, it has been a long journey, dating as far back as 2006 when following wide consultation, a first draft of the policy was developed. The document could not be finalised on account of the constitution review making process that was in place. It was considered very important to await the outcomes of the constitution review process so that the national land policy was adequately aligned, " she said.
She stated that the process of review and finalization was re started by the Ministry of Lands in August of 2015, again through a widely consultative process with key stakeholders and that Provincial consultative Meetings were held in all ten (10) Provinces with wide consultation from the traditional leadership through the House of Chiefs and furthermore, select committees of Parliament as well as other interest groups were also consulted.
" Because of the nature of the policy and diversity of the stakeholders, it was of extreme importance to undertake such in-depth consultations in order to enlist the participation of and feedback from the wide range of stakeholders." She said.
Hon. Kapata stated that the absence of a comprehensive national land policy had been a source of concern to all quarters of society, including government at all levels.
"It is for this reason that HE. President Edgar Lungu, President of the Republic of Zambia directed My Ministry to expedite the process of developing and finalising the National Land Policy for Submission to Cabinet for Consideration and approval. It is for this reason therefore that My Ministry worked with all of you to develop this comprehensive land POLICY that we are validating today. " Hon.Kapata said.
The National Validation Meeting For the draft land POLICY is taking place at the Intercontinental Hotel in Lusaka and in attendance are Several Stakeholders and interest groups, which include, Chiefs and Traditional Leaders, the Permanent Secretaries for the Ministry of Lands Dr Joan Kagwanja, the coordinator, African land POLICY initiative of the United Nations Economic Commission (UNECA) and representatives from Academia, Civil Society Organisations, NGO's and Subject Experts and Ordinary Citizens.