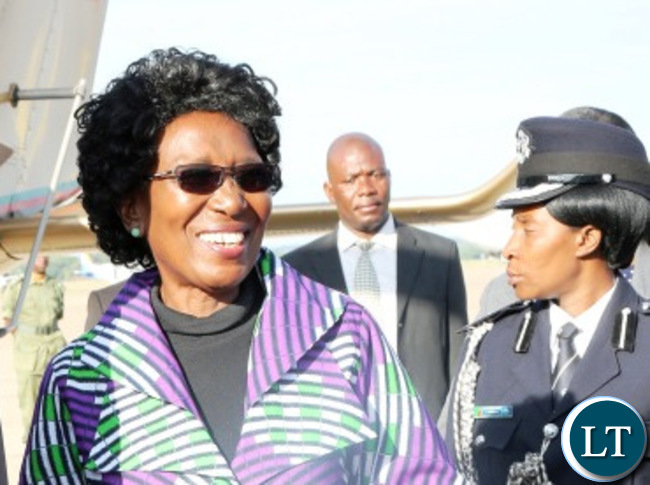 Government has launched the YouthConnekt, a platform which connects youths to role models, resources, skills and economic development in the country.
The YouthConnekt platform links young women and men aged between 16-30 with leaders, role models, peers, skills and resources to promote employment and entrepreneurship opportunities.
Vice President Inonge Wina launched the platform which started in Rwanda in 2012 and is being rolled out across Africa with the aim to reduce unemployment among youths and promote active citizenship.
The YouthConnekt platform which the Vice President launched at Government complex in Lusaka ahead of the commemoration of Youth Day is expected to coordinate and nurture collaboration between existing youth empowerment initiatives, hubs and a continental network of youth empowerment experts across Africa.
Mrs. Wina said this year's Youth Week is special because of the launch of the YouthConnekt Zambia platform which is a roll out of the Africa YouthConnekt which was launched in Kigali in 2012.
Mrs. Wina said the platform is a convener and a catalyst for partnership that taps into the youth people's potential to lead in development.
The Vice President said Zambian YouthConnekt platform is aimed at exchanging ideas and exploring ways to use ICT and strategic partnerships to unlock the potential of youth and connect them the endless opportunities that the country can offer in the economy.
Mrs. Wina was speaking during the official opening of the National Youth Forum which also marked the official launch of the YouthConnekt Zambia.
The forum which is part of the youth week activities ahead of the youth day provided a space for the young entrepreneurs and innovators exhibition where various exhibitions by young people were displayed.
And united Nations Resident Coordinator Janet Rogan said the youth week is an important time in Zambia to focus not only on the needs of the youths but also on their innovations and ideas.
Ms. Rogan expressed delight to see the enthusiasm of the Zambian government to join the roll out of the YouthConnekt concept which she said can yield massive development dividends for the country if properly established.
Meanwhile, Rwandan High Commissioner to Zambia Monique Mukaruliza disclosed that over 4 million youths have benefitted from the YouthConnekt in that country since inception in 2012.
She said YouthConnekt started in Rwanda as an empowerment initiative for the youth but has become a beneficial tool for the development of Rwanda as a country and expressed gratitude that Zambia has become a member.
This year's youth day will be commemorated under the theme, "Leveraging opportunities for youth through Information and Communication Technologies.
[Read 11 times, 1 reads today]