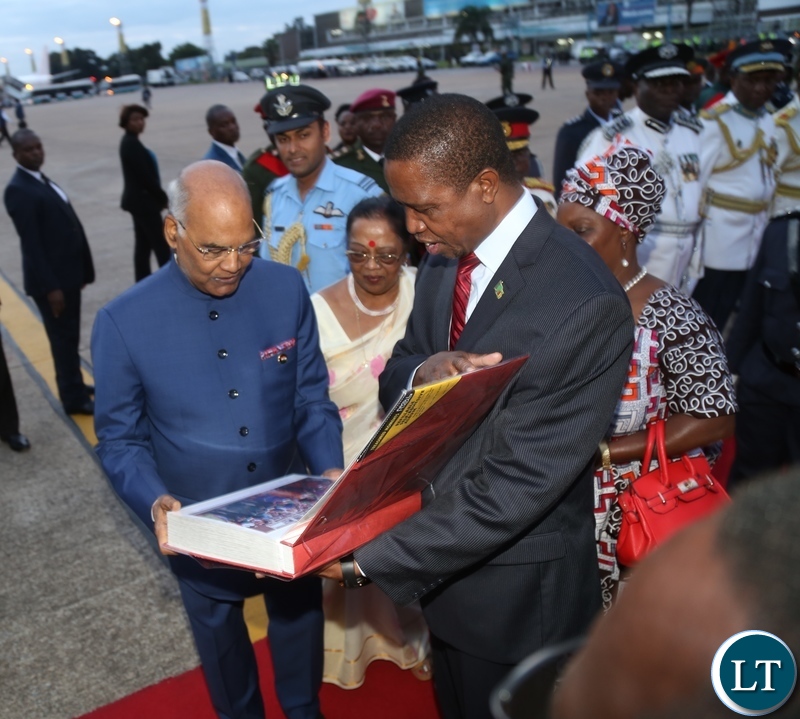 India's President Ram Nath Kovind has concluded his three-day working visit to Zambia.
President Kovind arrived in the country on Tuesday, April 10, 2018.
Speaking shortly before departure at Kenneth Kaunda International Airport (KKIA) in Lusaka, Mr. Kovind said his visit to Zambia has opened up a new era in the bilateral relations that exists between the two countries which is already historical.
He added that President Lungu's acceptance to his invitation to visit India will also help to cement the relations between the two countries.
Earlier in the day, President Kovind witnessed the ground breaking of the Lusaka City Road Decongestion project in Makeni.
Later, the Indian Head of State in the company of his wife Savita Kovind proceeded to Livingstone to view the mighty Victoria Falls.
During his stay in Zambia, President Kovind held official talks with President Edgar Lungu at State House.
He also laid wreaths on the Presidential burial sites at the embassy park and paid a courtesy call on the First Republican President Kenneth Kaunda at his residence.
The Indian Head of State was accorded a 21 gun salute by the Zambia Army before departing for his home country.
He was seen off by President Lungu, First Lady Esther Lungu, Cabinet Ministers, Service Chiefs, Senior government and Party officials.