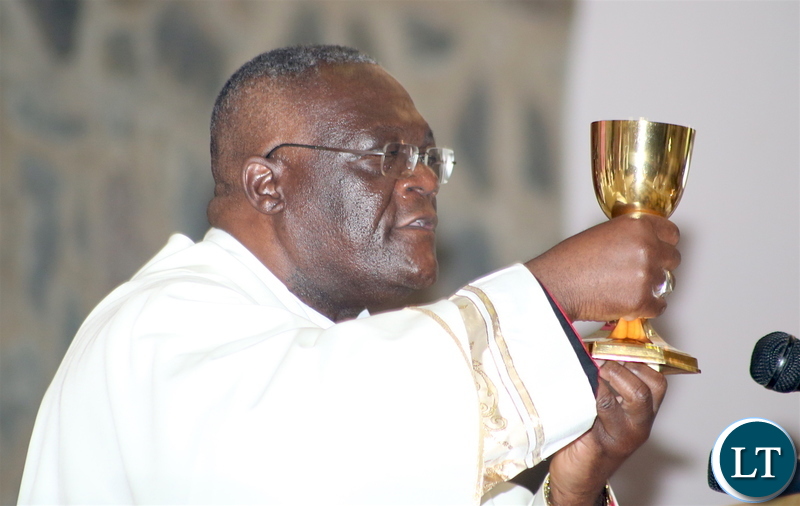 Bishop Rev. Dr. Alick Banda has been installed as the sixth Archbishop of the Metropolitan Archdiocese of Lusaka following the retirement of Archbishop Telesphore Mpundu.
Archbishop Banda was installed at a colorful installation ceremony held at the Cathedral of the Child Jesus in Lusaka and attended by Republican President Edgar Lungu and hundreds of the Catholics from within and outside the city of Lusaka.
Rev. Dr. Alick Banda who was until his appointment, the Bishop of the Catholic Diocese of Ndola has taken over from Archbishop Mpundu who has taken an early retirement at age 71.
Retired Archbishop Mpundu, now called Emeritus, has followed the route taken by Pope Benedict XVI who retired to pave way for an energetic pope to take over.
The apostolic letter of appointment from the Catholic Church Holy Father, Pope Francis, was shown to all bishops and read out to the congregants to authenticate the appointment.
The outgoing Archbishop Telesphore Mpundu handed over the Crossal, a symbol of taking over the metropolitan archdiocese of Lusaka to the new Archbishop to symbolize the official handover of authority before he took over the seat of the Cathedral.
And in his farewell homily, Archbishop Mpundu urged religious and political leaders to show love and respect to the people they serve like Jesus did to his disciples when he washed their feet.
The Archbishop urged the leaders to be shepherds of the people and not masters of the people.
He stated that religious leaders should not seek political power but can speak for the voiceless without being partisan.
Archbishop Mpundu noted that one does not need to belong to a political part to express a political opinion in the country.
Addressing the congregants, President Lungu reaffirmed his government's commitment to working with the church in governing the nation.
President Lungu noted that the church has an important role to play in politics to ensure that people receive all the services that they need.
The Head of State said the church should allow its members to join politics in the ruling and opposition political parties in order to clean the political landscape.
He said Zambia being a Christian nation requires that its people including politicians conduct themselves in a Christ-like manner.
Meanwhile, the Zambia Conference of the Catholic Bishops (ZCCB) said Archbishop Mpundu will still remain the fountain of wisdom for the young in church and community despite his retirement.
ZCCB President, George Lungu thanked Archbishop Emeritus Mpundu for his contributions towards the advancement of the Catholic Church in Zambia and the establishment of the Catholic University.
[Read 217 times, 1 reads today]