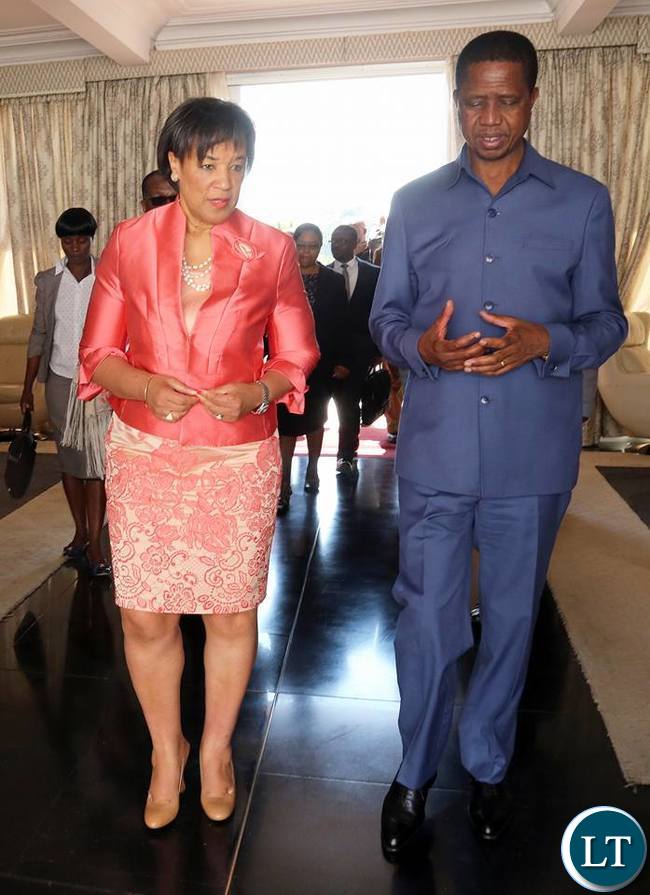 The Commonwealth has accepted Zambia's position to have the proposed national dialogue process involving various political stakeholders.
This came to light during a bilateral meeting that Vice President Inonge Wina held with Commonwealth Secretary General Patricia Scotland in London. Mrs. Wina said time has come for Zambians to show the world that they are capable of resolving their own internal challenges in an amicable manner.
She confirmed having briefed the Commonwealth Secretary General during the bilateral meeting about the latest developments in Zambia regarding the pending dialogue process.
"Scotland accepted the views of the Zambia's stance on the dialogue process. We want the dialogue process to be carried through by the Zambia Centre for Inter-party Dialogue (ZCID) and the Commonwealth secretariat will be asked if there is a role they play in the dialogue process," Mrs. Wina said.
The Vice President said she is hopeful that political players involved in the dialogue process will not come up with a new agenda which may derail the whole process.
"We should be focused on how to resolve our internal issues. Most of the issues that have arisen in Zambia have been solved by ourselves as Zambians," Mrs Wina said.
The Vice President has since called on political players involved in the proposed national dialogue to put aside their partisan interest but put the country's interest first.
"The inter-party dialogue is not a PF driven affair but a consensus of all political parties. Even the dialogue will be driven by the political parties," Mrs. Wina said.Mrs. Wina noted that the Zambia Centre for Inter-party Dialogue (ZCID) was set up a long time ago and all political parties have a stake in it.
"Whenever they have been a conflict they (ZCID) have been able to manage and resolve it. All Zambian political parties have confidence in this institution. And we believe we can solve our own national issues" she stressed."
Meanwhile, Commonwealth Secretary General Patricia Scotland described her bilateral meeting with the Vice President Inonge Wina as cordial.
Ms. Scotland said the meeting touched on several issues of common interest to both Zambia and the Commonwealth family such as good governance and protection of human rights.
She expressed happiness that the Vice President assured the Commonwealth Secretariat that Zambia is committed to upholding the rule of law and the commonwealth values including facilitation of the national dialogue process.
"We discussed issues of the innovation hub and creation of the office of the civil justice reforms and all the things that bring us together as a commonwealth family," Ms. Scotland said.
The Commonwealth has been facilitating the proposed national dialogue among political stakeholders with the view of unity of purpose in the nation.Meanwhile, the Vice President says the Commonwealth is now becoming relevant to the needs of the member states as evidenced by the technological advancement in the grouping.