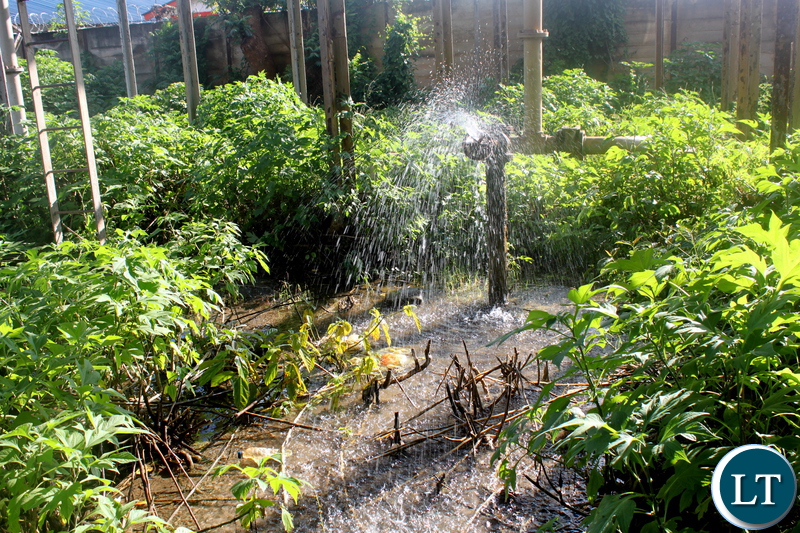 Lukanga Water and Sewerage Company Limited (LgWSC) has observed that Non-Revenue Water is one of the most lethal challenges affecting the Water Sector.
The Water Sector in Zambia continue to lose colossal sums of money through Non revenue water which comes as a result of illegal connections, unbilled customers, old dilapidated water infrastructure,leakages or wastage on unmetered customers' premises among other things.
Speaking in Kabwe, LgWSC Managing Director, Mushany Ngafise Kapusana noted that it is astounding that all the 11 Commercial Utilities in Zambia posted a loss of K848.9 Million during the year under review, which was K 38.6 Million more than what the sector lost in 2016.
Mr. Kapusana said that there was urgent need for Commercial Utilities and all Sector players to urgently seek unanimous solutions towards mitigating the challenge of Non-Revenue Water.
He however disclosed that with the help of guidelines from the National NRW Reduction Strategy which was launched in 2016, LgWSC has had already began working towards mitigating the challenge.
Mr. Kapusana disclosed that LgWSC was working towards increasing its metering ratio and reduce NRW by 25% in 2018.He explained that the Utility this year procured 1,950 at the cost of over K 2 Million, to go towards metering commercial and domestic customers.
"So far all Police Camps in Kabwe have been metered 100% and we want to meter more communities so that we reduce on non-revenue water with water meters in place, customers will be cautious not to waste water and they will make it a point to take care of their own leakages after the meter" he said.
He also explained that LgWSC has in place an inspectorate Team and has intensified inspections aimed at curbing illegal connections, meter by-passes and other illegal activities.
"Despite LgWSC having been recognized as the Most Improved Commercial Utility in terms of tackling Non-Revenue Water in 2016, and the Most Improved in terms of providing Quality Water in 2017, we want to improve and excel more in the area of NRW and we have various measures in place. This is a great challenge affecting company operations because we do not end up collecting as much revenue as we are supposed to collect in order to improve service delivery" the Managing Director said.
He added that the establishment of a stand-alone Ministry of Water Development, Sanitation and Environmental Protection gives a glimmer of hope that all sector players begin to benchmark and collaborate more in terms of strategies to collectively combat Non-Revenue Water.
Mr. Kapusana also appealed to customers to desist from engaging in activities that are detrimental to the provision of Water and Sanitation Services such as illegal connections, vandalism of water pipes and shunning paying bills.
Non-Revenue Water is the difference between the quantity of treated water distributed in the network and the quantity of water billed. It is the water that has been produced and lost due to leakages, illegal connections, unbilled customers, or wastage on unmetered customers' premises among other things.
According to the 2017 Urban and Peri-Urban Water and Sanitation Sector Report, the current National NRW statistics remain at 49% against the acceptable benchmark loss of 25%.
LgWSC has launched a Mega-Mass Leak Detection and Repairing Program, a strategy which is aimed at reducing NRW through tackling and sealing of severe leakages. The Water Utility is also working towards securing external capital funding for the overhaul of old dilapidated infrastructure that contributes to NRW.
Issued by
Louis Mwape
Public Relations Officer
Lukanga Water & Sewerage Company Limited
[Read 37 times, 1 reads today]