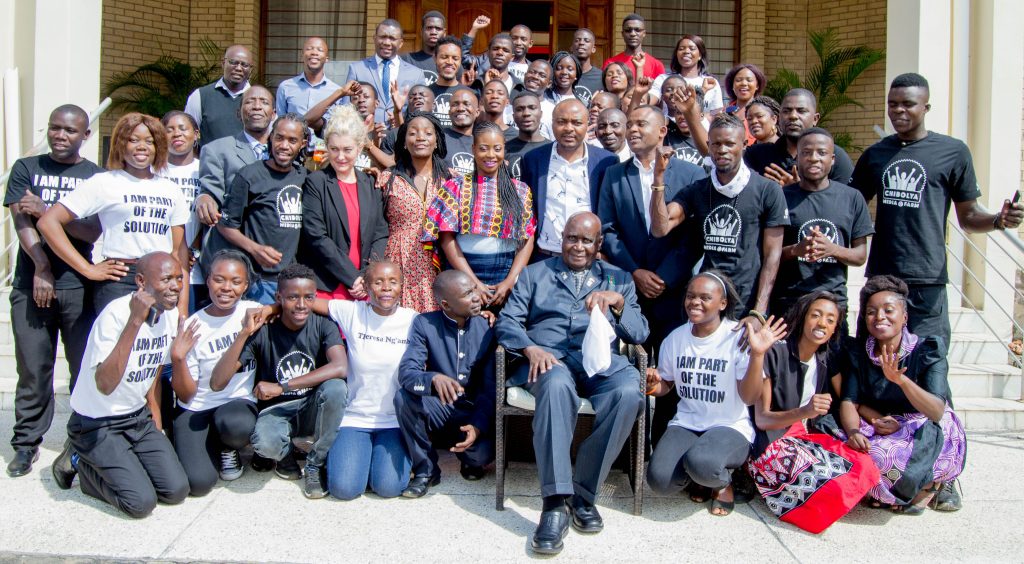 Zambian Breweries commemorated the 94th birthday of the First Republican President Dr Kenneth Kaunda recently by presenting two groups of youths whom the company have sponsored in promoting awareness on the dangers of alcohol abuse.
The moment of delight came when the former President was serenaded with a multilingual national anthem prepared by one of the youthful groups, SOTRANE (Network for Society Transformation).
Dr Kenneth Kaunda was elated by the fact that rather than sing the national anthem in the English language alone Sotrane incorporated several local languages thereby upholding the 'One Zambia, One Nation' spirit.
Dr Kaunda further appreciated Zambia Breweries' drive in working with youths to advocate the curbing of alcohol abuse and underage drinking.
"It is amazing; truly One Zambia, One Nation. You are doing something special, something real and something great for Zambia," he encouraged the youths.
Dr Kaunda further commended the group for striving to be a part of the solution of making a better Zambia saying: "You make my 94th year a very proud year. No group has ever given me such strong hope about the future of Zambia as you have done. Continue with these programmes…you have begun very well."
Zambian Breweries corporate affairs director Ezekiel Sekele thanked the founding father for continuing to be an inspiration to the nation and not letting the years wane his desire to see Zambia become great.
"We wanted to commemorate Dr Kaunda's 94th Birthday in a special way and this is how we chose to do it, by bringing together two generations that can speak to the continuity of the vision that was began by our fathers," said Mr Sekele.
Mr Sekele also noted that SOTRANE's  objective of instilling positive social values in the youth spoke to Zambian Breweries own vision for a better and healthier world where the youth are empowered and are aware of the dangers of alcohol abuse.
SOTRANE was joined by another group called ''THE CHIBOLYA MEDIA FARM'', which takes its motivation from the famous ''MUFAYA'' award winning movie. Zambian Breweries is supporting the youths of Kanyama / Chibolya township to be trained in film making. The focus of the project being on social vices which include alcohol and drug abuse.
Dr Kaunda later showered the group with his own impromptu serenade to the delight of those present.
[Read 83 times, 1 reads today]