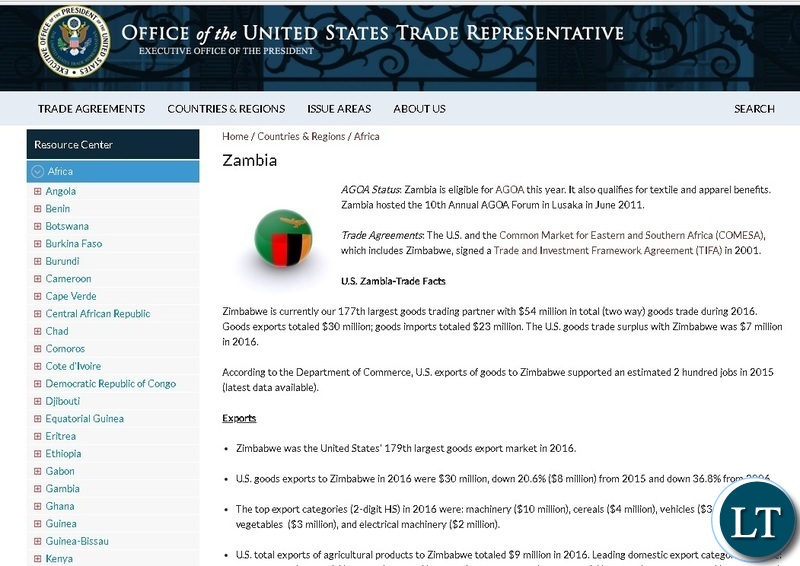 As the Green Party, we are worried that President Donald Trump has wrong trade data for Zambia. As will be noted on the official website for the Executive Office of the President of the United States of America, the data reflecting Zambia is for Zimbabwe.
This development is extremely worrisome to us as the Green Party because it is evidence we have incompetent people running the country. Why should such a grave mistake happen when the country has a trade attache in the USA? Why should it happen when President Edgar Lungu has a special assistant in charge of economics and trade? Why should such a farce happen when we have a fully-fledged ministry of commerce and trade with competent staff who should on daily basis monitor global trade trends and accordingly advise government?
If I were in-charge of the country, a number of officials at State House, US Embassy in Washington DC, and at the ministry of Commerce and Trade would have been fired as a consequence.
It is shocking that despite the current threats to multilateralism and global trade through Trump's "America First"and unilateral breach of WTO rules on trade tariffs, the PF Government has paid a blind eye to Zambia's trade relationship, and trade data with the US.
We urge the PF Government to come out of slumber and develop a Trump strategy before he directs his "America First"arsenals towards our direction. If he can, with impunity embark on a trade war with Canada and EU, who traditionally are America's closest allies, would he really hesitate to withdraw the assistance to Zambia?
The United States assistance, which is estimated at US$ 250 million per year, focuses on improving health with a particular focus on women and vulnerable children; reducing the incidence and impact of HIV/AIDS and other illnesses; increasing agriculture-led economic development to reduce rural poverty, food insecurity, and malnutrition; mitigating climate change and wildlife trafficking; raising education quality and learner reading performance; and advancing civil society, governance, and human rights. The US also supports government's efforts to root out corruption.
Zambia is a beneficiary of the African Growth and Opportunity Act (AGOA) and a variety of technical assistance and other support that is managed by the Department of State, US Agency for International Development, Millennium Challenge Account (MCA), Centres for Disease Control and Prevention, and other agencies. The bulk of US assistance to Zambia is provided through the President's Emergency Plan for AIDS Relief (PEPFAR), in support of the fight against HIV/AIDS.
We once again urge President Edgar Lungu, and his PF government, to promptly develop a "Plan B" strategy to confront the reality of Donald Trump's "America First" policy otherwise, sooner rather than later, our great country may suffer grave consequences.
Yesterday at the G7 Meeting in Canada, Trump made it clearer that ever before: "We're like the piggy bank that everybody's robbing. And that ends", he said. Man can never be any clearer than this. Those with ears have heard.
Peter Sinkamba
President