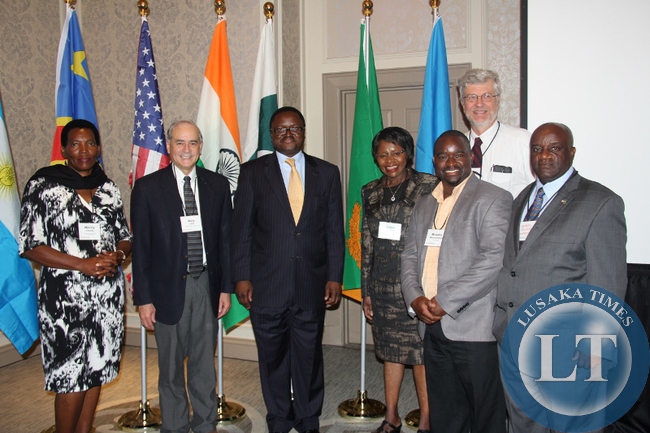 Government says it has prioritized to improve the way it operates the health sector by incorporating the use of the E-Health Technology in the country.
Ministry of Health Permanent Secretary (PS) for Administration Elwyn Chomba made these remarks at the launch of the Growing Expertise in E-Health knowledge and skills (GEEK) training program held at University of Zambia today.
ZNIS reports that Professor Chomba said that it is important that the information communication technology (ICT) is used in the innovation and support of health systems.
The PS stated that government intends to use health information and communication technology to deliver quality health services in the country.
She affirmed that government is working with various partners to build the capacity of the health work force to utilize health information and communication technologies to improve the quality of patient care.
Prof. Chomba who noted that government is eager to improve the health informatics capacity in the Zambian health care delivery system also stated that, the ministry is currently using technology in record keeping and lab systems among other departments.
She thanked the Center for Disease Control and Prevention (CDC), America and China for the technical and financial support in imparting skills in e -health knowledge and skills to health personnel in the country.
And speaking at the same event, American Ambassador to Zambia Daniel Foote, said the US Government has partnered with the Zambian Government to build capacity of the health work force in the country.
Mr. Foote stated that the use of health information and communications technology will improve the quality of health care in the country.
He noted that the US President's Emergency Fund for AIDS Relief (PEPFAR) and CDC Zambia have made significant investments in health information systems including the national electronic health record system smart care.
The Ambassador further stated that two million people are currently enrolled in the system at over 900 health facilities in the country.
Mr. Foote said that the GEEK program will build on US investment in the smart care to support progress toward PEPFAR goals through the use of individual electronic health records to improve the quality of patient care by health care providers.
[Read 216 times, 1 reads today]