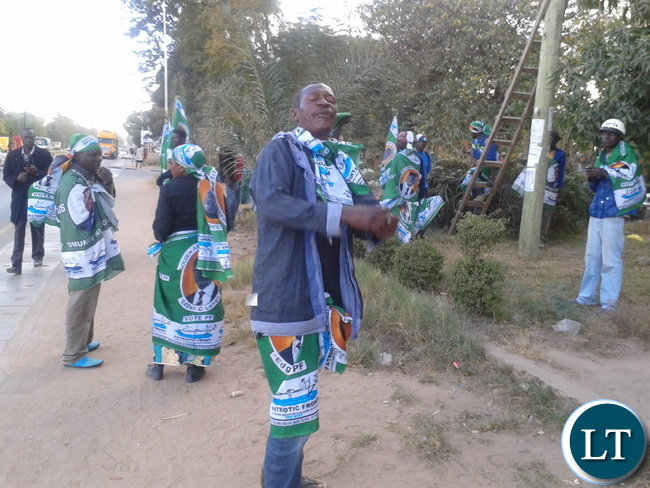 The Patriotic Front (PF) in Kabwe has called for the ban of political party regalia during election campaigns.
PF Information and Publicity Secretary, for Kabwe Sam Lupupa, said political party regalia such as Chitenge, T-Shirts, Caps, Tracksuits and other clothing materials be banned from being used as campaign tools during elections because they are a major contributing factor to political violence that is being experienced in the country.
He told ZANIS in an interview in Kabwe today, that political parties participating in an election should, however, use banners, posters, placards, brochures and other information-based materials which should be disposed of after an election.
Mr. Lupupa expressed disappointment at the increasing number of campaign materials in form of clothing that have recently rocked the country saying they are the root cause of most of the political mishaps in the country.
He added that there is currently too much expensive clothing materials being used for election campaigns and that these are somehow disadvantaging emerging and minor political parties that do not have enough resources to acquire them.
And Mr. Lupupa has further charged that the adoption process of candidates is another major contributor of violence amongst the political parties.
He advised political parties to conduct the adoption process of their candidates at Constituency level saying it is the Constituencies at the grass root levels that understand the eligibility of certain candidates.
He stated that the Central Committees of various political Parties should desist from making decisions and imposing candidates on Constituencies that are not the wishes of people at the grassroots.
Mr. Lupupa said once the grassroots are given an opportunity to select their preferred candidates, most of the violence that manifests from within the political parties will vanish.
Meanwhile, Mr. Lupupa has called on the Electoral Commission of Zambia (ECZ) to intensify its sensitisation process in order to ensure an informed public.
He said the continued voter apathy that is being experienced during elections is as a result of too much ignorance amongst the electorates.
He observed that a lot of people are unaware on the benefits of participating in an election as voters because of the many myths and misconceptions that are currently at play.
Mr. Lupupa, therefore, called on ECZ to continue carrying out massive sensitisations across the country in order to educate and adequately inform the general populace.
[Read 86 times, 1 reads today]