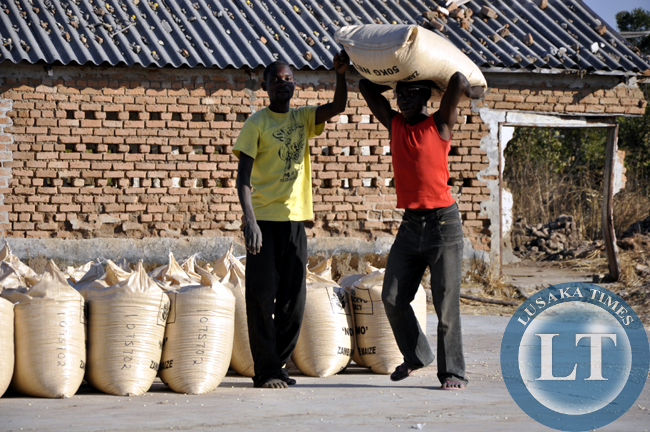 Farmers in Kaoma District have commended President Edgar Lungu for appealing to the Food Reserve Agency (FRA) to revisit the K65 maize floor price for this year.
Speaking on behalf of other farmers, Mwendabai Sitali told ZANIS that it was gratifying that President Lungu came to the aid of farmers adding that the set floor price did not conform to the cost of production.
Mr Sitali noted that the move by the Head of State was a clear indication that he attached great importance to the agricultural sector as a driver to the country's economy.
The farmer added that nobody should politicise this noble cause because it was clear that some stakeholders, especially the farmers were not happy with the current floor price.
Mr Sitali said it was important for FRA to always involve all stakeholders when making important national decisions such as pricing of commodities.
Mr Sitali disclosed that though some farmers were selling their maize to briefcase businessmen at K60 per 50 kilogram bag of maize, that did not mean FRA should offer something lower.
He said farmers were selling their maize to private individuals to sustain their livelihood whilst waiting for FRA to announce the floor price for this season.
Mr Sitali noted that K65 was lower than what the farmers expected, adding that the trend by FRA to offer lower buying prices will discourage farmers from growing more maize.
He was optimistic that the President's intervention would yield positive results that would make both parties happy.
Yesterday whilst in Eastern Province, President Lungu called on FRA to revisit the K65 announcement of maize floor price