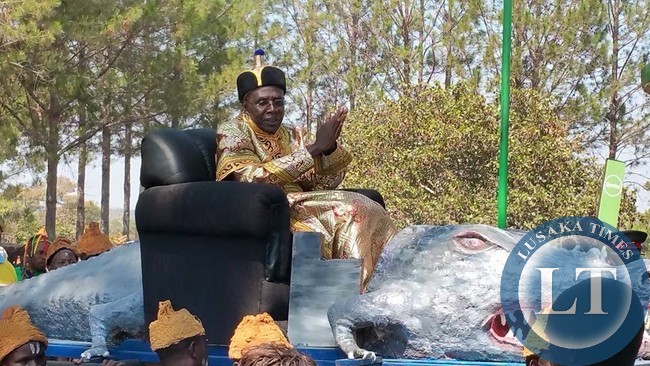 By Henry Kanyanta Sosala
Preamble
David wrote: ''Lord, place a guard at my mouth, a sentry at the door of my lips (Psalm 141:3). And his son Solomon added: ''Be careful what you say and protect your life. A careless talker destroys himself.(Proverbs 13:3).
It was sometime last year when a close relative living in Ndola informed me that a member of an opposition party had told him that after the party gets into power in 2021, there would be an enquiry to establish that I am not a genuine member of the Bemba royal family since my great-great grandmother was not the genuine person who was later brought back after the primitive Ngoni savages kidnapped her.
At that time I did not take it seriously, but of late I was informed that more people had joined in and indeed in March 2018, the same fellow travelled to Kasama to meet the most senior among the sons of chiefs whom we regard as the ''alderman'' of the Bemba royal family and he is actually our ''cultural bank,'' because of his wide knowledge of our traditions and norms since he is the only living survival of the previous generation of our ancestors. And unfortunately he did not go there to seek clarification, but he began to argue when the chief tried to explain to him about the whole truth. And he just finally dismissed him from the palace.
My Bemba Royal Lineage.
Chitimukulu Chitapankwa's sister Kasonde (Chandamukulu II) had two sons Mubanga Chipoya (Chief Mwamba III) and Mutale Sichansa(Senior Chief Nkula II) and two daughters, Kangwa Chonya and Chimbabantu.
Kangwa Chonya had four sons, Kanyanta (later became Chitimukulu VIII); Luatila (later died as Chief Nkolemfumu III); Mubanga (later became Senior Chief Mwamba V) and Mboonkali (died as Chief Nkolemfumu V) and the only daughter Chilufya died before she had married.
And here is the history of my royal lineage through Chimbabantu (later Chieftainess Chandamukul III). In the ''History of the Bemba'' Andrew Roberts wrote: ''The Ngoni recruited support among the Lungu, Mambwe, Namwanga and Iwa. They returned to Manga with a large force and launched a successful attack, in which they killed Mukukamfumu II, Kasonde, a sister of Chitimukulu Chitapankwa and captured her daughter Mwango Chonya (later known as Chilobelobe: meaning the Lost One)(ibid. p. 145).
W.V. Brelsford in ''The Succession of Bemba Chiefs'' wrote: ''Chimbabantu had been captured when she was very young, about 12-14 years of age, by the Ngoni during the raid. She was sold by the Ngoni to a Fungwe native who married her. Some years later greetings and messages began to come through from her by way of ivory traders. Kafola, the son of Mukukamfumu III was told to make enquiries and he discovered where she was and so she was finally brought back about 1890 with her Fungwe husband. He was given ivory and he went away leaving Chimbabantu and her two children Musenga and his sister Chabili. The two children are now Chief Nkolemfumu VI and Chieftainess Chandamukulu IV. The former will probably become Paramount and the latter's sons too perhaps. After her return home Chimbabantu (now Chandamukulu III) successfully married three Bemba and had two girls and a son, one child by each husband. These three are Kasonde, Mubanga and Mutale Nshika (currently chief Mpepo IV).''
Lying is defined as: ''To say or write something which is not true in order to deceive someone.'' God said: ''I hate and detest all lies (Psalm 119:163).'' Solomon wrote: ''The Lord hates liars, but is pleased with those who keep their word.'' (Proverbs 12:22).
A lie-detector is defined as: ''a piece of equipment used to try to discover if someone is telling lies.'' Our ancestors had also some kind of lie-detector i.e., traditional methods through the application of herbs or concoctions (umwafi) to prove whether one was telling the truth or lying. Dr. Mbita Chitala in ''A Short History of The Bemba People of Northern Zambia 1485-1946'' has translated in English the application of umwafi from the Bemba history book called ''Ifya Bukaya.'' The Bembas pretended to surrender and promised to pay homage to the Ngoni. Then three Bemba chiefs, Chitimukulu, Mwamba and Makasa sent ambassadors to the Ngoni. And since the Ngoni were not very sure if really and indeed the Bemba had surrendered they subjected them to the cultural lie-detector.
And here is Dr. Chitala's account: ''Then they summoned Mukuli who was the envoy representing King Makasa. They paraded him on a marked ground (mu cishilwa). A young man took a wooden spoon (akapande) and fed the poison (umwafi) to Mukuli and he swallowed the poison in whole. Then he was given a bark of a tree (icipande) to chew and swallowed. The young took the gourd vessel (ulukombo lwa lunda) which contained the poison and forced Mukuli to drink the concoction. After he drank he was forced to drink some water. Then they let him wander aimlessly in the marked yard (cishilwa). Then he suddenly began to vomit and he vomited so much that all the concoction that he had taken was let out. The people on seeing this commented thus: 'atuuko mwafi, tali na kebo mundi' (he has vomited all the poison, he has no case (kebo) in his stomach).
''The same poison test was administered to Kapande, the envoy of King Mwamba who also did not succumb to the poison test and he too vomited all the concoction and he also survived. Then they summoned Kapoma king Chitimukulu's envoy and subjected him to the same poison test. When Kapoma drank the concoction, he started wandering aimlessly in the marked yard, but he developed dizziness (alapungushima). He did not vomit the poison as others had done. Eventually, the energy in Kapoma waned and he fell to the ground. The people watching Kapoma die slowly, poured scorn on him.'' And tradition has it that besides going through the ''mwafi'' poison testing Queen Chimbabantu had also to undergo various testings to really prove her identity.
After the death of Chitimukulu Kanyanta in 1943, there was a succession wrangle between Senior Chief Musenga and Senior chief Nkula Musungu and the issue of Musenga's family background was brought into the campaign. And here is what Brelsford wrote: ''…. Chimbabantu was too young to have been cicatrized with Bemba markings, but she was old enough to remember her relatives and it was her message, revealing her knowledge of them, by the traders that first drew their attention to the fact that she was alive. When she returned she had Ngoni face markings and her ear lobes had been slit and enlarged. But she proved her identity then, and was accepted as Chimbabantu by all branches of the clan up until the present, so I do not think any questioning can be allowed now.'' (ibid. p. 13). (emphasis mine). King Solomon wrote: ''The Lord sees to it that truth is kept safe by disapproving the words of liars.'' (Proverbs 22:12).
Politics of Stupidity.
From the foregoing we can deduce that Queen Mother Chimbabantu returned back home in 1890 and it is amazing that in 2018 thus 128 years later, somebody born in the 1960s claims to know much more! In fact Musenga who was born in a foreign land was accepted as a legitimate Bemba royal and became Chitimukulu 33, while his sister became Queen Mother Chandamukulu IV! Whereas, on the other hand, Brelsford had made it clear: '' After her return home Chimbabantu (now Chandamukulu III) successfully married three Bemba and had two girls and a son, one child by each husband. These three are Kasonde, Mubanga and Mutale Nshika (currently chief Mpepo IV).'' (emphasis mine). And of the ''two girls,'' my maternal grandmother was Kasonde Chisuna.
And it is just unbelievable to the extreme extent of how people can hate an individual like me! This is actually political stupidity which has surfaced in the current political arena. By the way this kind of ''stupidity'' is not in the classical sense, which is usually thought as of a very low IQ. This kind of foolishness must be distinguished from the ''mental retardation.'' And this kind of idiocy has been identified with inferiority complex arising mostly from highly questionable family background. This kind of stupidity comes with the supposed access to public media, popularity, success or displaced ambition. And according to Robert Sternberg, the stupid expert, such stupid persons believe that because they are so smart; the world does and should revolve around them. They are gripped by the omniscience fallacy. They are convinced that they know more than everyone else and can influence public opinion to their advantage and that others are just big idiots whom they can easily manipulate. These stupid individuals think in their foolishness that they know more about what happened in 1890 than anybody else!
TO BE CONTINUED.
[Read 165 times, 1 reads today]