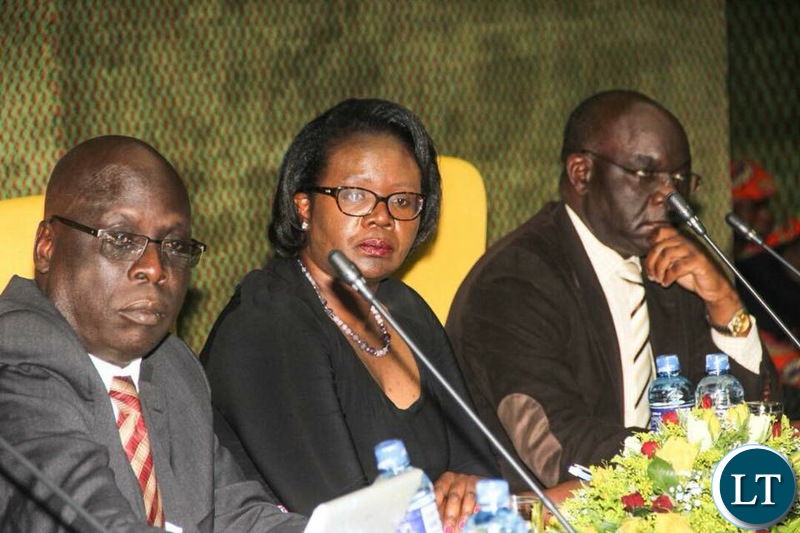 Former Law Association of Zambia President Linda Kasonde has denied calling President Edgar Lungu a thief.
Some news reports indicate that Ms Linda said Zambians do not scrutinize the leaders they vote for and that is why they end up even voting for thieves.
This was allegedly said when Ms. Kasonde featured as a discussant during the Levy Mwanawasa Memorial Lecture recently at the Mulungushi International Conference Centre.
But in a statement issued this morning, Ms Kasonde said at no time did she utter those words.
She said not only have words that she did not say been attributed to her but also the actual remarks that she made have been taken out of context.
Below is Ms Kasonde's full statement
RESPONSE TO REPORTS ON SOCIAL MEDIA ALLEGING THAT I CALLED PRESIDENT EDGAR LUNGU A THIEF
My attention has been drawn to a story circulating on social media alleging that I called President Edgar Lungu a thief. It is alleged that I made the said remarks during the 10th Memorial lecture held for President Levy Patrick Mwanawasa SC held at the Mulungushi International Conference Centre on 18th August 2018.
Please note that the story is false. At no time did I utter the alleged remarks against President Lungu. Not only have words that I did not say been attributed to me but also the actual remarks that I made have been taken out of context.
On 18th August 2018 I was one of the discussants at a public lecture delivered by Dr. Akashambatwa Mbikusita-Lewanika on the life and legacy of President Mwanawasa. Below are the short remarks that I made on that occasion:
REMARKS BY LINDA KASONDE AT THE PUBLIC LECTURE COMMEMORATING PRESIDENT LEVY PATRICK MWANAWASA'S LIFE AND LEGACY
Distinguished guests, fellow Zambians, I am deeply honoured to be seated here as a lawyer, a younger citizen (no longer a youth) and a woman. As Dr. Lewanika stated in his lecture, the freedom struggle continues. Indeed, as a democracy, more so as a fledging democracy, we must live with the fact that democracy is always under threat. That is true in any democracy as we are seeing globally. Democracy is about allowing the marketplace of ideas to thrive. President Mwanawasa is reported to have complained about criticism in the media and yet he did allow a free press to flourish. A notable exception is the prosecution of satirist Roy Clarke for an unflattering satire of President Mwanawasa and then Vice-President George Kunda SC which nearly resulted in Mr. Clarke getting deported. This was perhaps a moment of personal weakness but we are here because President Mwanawasa is widely celebrated as one of if not the best President that Zambia has ever had.
As a keen follower of history, I must depart from the view held by one of President Mwanawasa's biographers that 'It matters how it ends'. It does, but I also believe that it matters how it starts. Contrary to some believers, leaders do not drop from the skies. They live and work amongst us. We can see where they came from and anyone choosing a leader will ignore a leader's past at his peril. President Mwanawasa was previously known as a student leader at the University of Zambia, he was a former Vice-President of the Law Association of Zambia, a celebrated and skilled Advocate, a former Solicitor-General of the Republic of Zambia before becoming the Republican Vice-President and then President. We see his integrity when he resigns as Republican Vice-President because of corruption in the government; we see it when he attempts to follow the rule of law. Dr. Moses Banda tells me that as an economist working as an economic adviser to President Mwanawasa, he was often inconveniently reminded that the economic strategy that he was proposing was contrary to the law. This meant that it could not be done or the law would have to be amended. I am told that President Kenneth Kaunda, the first Republican President, shared this trait.
Dr. Lewanika talked about the ideas and values for which the Movement for Multi-Party Democracy (MMD) stood, at least at its inception. Values are another thing that are sorely lacking in our current politics. I have said on other platforms that good institutions need good people. This is because it is the values of the individual that allow the individual to keep themselves in check – avoiding corruption or removing oneself from a situation where the environment is such that reversing corruption is untenable. The fight against corruption is always a good thing. Corruption is a cancer that is now endemic in our nation. What can we learn from the fight against corruption during the Mwanawasa era? I think that it is that the fight against corruption must be sustained and not just against political enemies. It cannot have been easy for President Mwanawasa to fire one of his own ministers, former Lands Minister Gladys Nyirongo, for corruption. Today we see lowly police officers being caught taking bribes. But we must be careful to look at the root causes of corruption. What is happening in our society that makes people think that it is okay to steal? That it is okay to be corrupt? I'm told that people who worked for President Mwanawasa feared him. People felt restrained against excesses. Fear of a leader in itself is not a bad thing if accompanied by love or respect. As a leader, it is tempting to want to oversee everything, I have been guilty of this myself. The ultimate test of a leader is seeing how people behave in their absence.
Today, ten years down the line, we are here to celebrate the legacy of a Zambian patriot who through his own living will stated that he wished the best for the Zambian people. We accept that no one is perfect, President Mwanawasa included. We are here because he planted a seed, even one as small as a mustard seed, that today is still flourishing. Writer and poet Dr. Maya Angelou used to say that "You have no idea what your legacy will be. Your legacy is every life you have touched". That is why we are here.
I hope that future generations will take a leaf from the Mwanawasa Foundation by preserving and even dissecting the history of our leaders. We need to know our history to understand our present. Often a reference to history could quite quickly resolve an issue today. I thank you again for this opportunity.