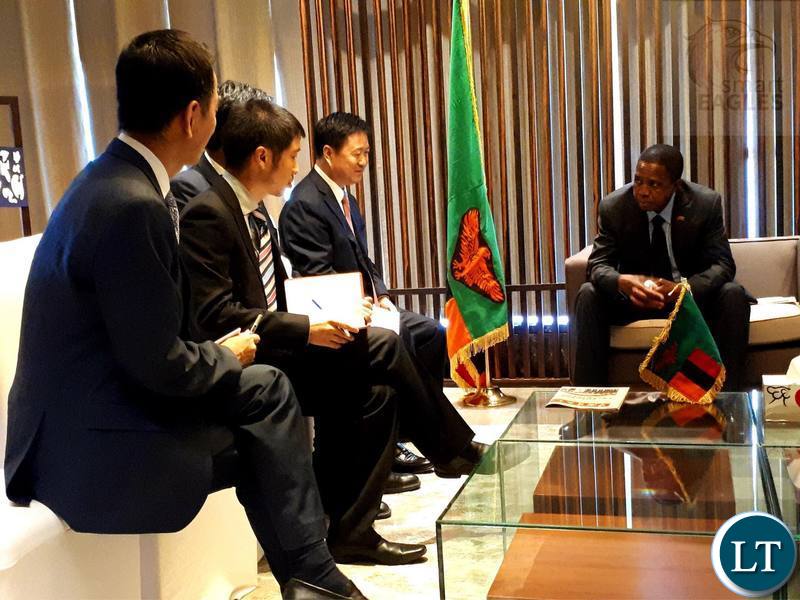 President Edgar Chagwa Lungu yesterday morning began a busy schedule of his engagements in China with a meeting 15 companies and investors expressing interest in a wide range of investment destinations ranging from biotechnology, railway construction, hydropower, road construction, housing – infrastructure in general and other priority areas where Zambia wants to invest and develop.
In addressing the investors whom he met in intervals, President Lungu spoke highly of Zambia as an investment destination with plenty of land, water, natural resources, a friendly people, erable land, rule of law, a business enabling environment and its supporting government policies.
He called for a win- win approach to any form of investment and business explaining that it was critical for skills transfer and development to be at the centre of any form of investment venture in Zambia.
"You are welcome to our beautiful country. We want to work with you. Zambia has plenty of land, and water and natural resources; identify your area of interest and we will support you. And that is why we are here. Back home, you have the opportunity to take advantage of the available local personnel, skills and expertise. Our people are friendly and they will welcome any investment which allows them to keep and maintain all those jobs we are skilled in," he has emphasised.
It is worth noting from the engagements that there is huge appetite and a lot of interest from the investment community with some of them expressly indicating that as soon as next week, after meeting the President, they will begin to make contact with the relevant agencies that deal with investment promotion and anything incidental to that.
And at 4pm Chinese time, the Republican President met with his Chinese counterpart, His Excellency President Xi Jinping for a bilateral summit between the Two Heads of State.
President Lungu will today, Sunday, deliver a keynote speech at the Zambia- China business and investment forum organised and hosted by the China Nonferrous Metal Mining (Group) Company -CNMC- who are the owners of Chambishi mine and other investments in Zambia.
[Read 56 times, 1 reads today]