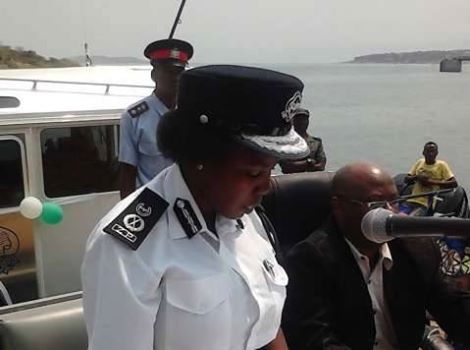 Police in Kitwe have questioned National Democratic Congress (NDC) National Youth Chairperson Charles Kabwita over a WhatsApp message purported to be impersonating National Development Planning minister Alexander Chiteme.
The Copperbelt Police commissioner Charity Katanga says Police are now looking for a Mr. Alexander Chalwe who is also on the same WhatsApp group for allegedly posting messages impersonating Mr. Chiteme.
Ms Katanga told ZNBC News in Kitwe that the messages posted on the group indicate that Mr. Chiteme has been leaking confidential information from state house to the WhatsApp group administered by Mr. Kabwita when in fact not.
But Mr. Kabwita, who spoke to ZNBC News at Kitwe Central Police Station after being questioned, accused Mr. Chiteme of having reported him to the Police.
The former Chimwemwe Ward Councillor said the WhatsApp group where he is an administrator has over 260 members and he does not know every member of the group.
Earlier, Nkana Constituency PF member of Parliament Alexander Chiteme reported National Democratic Congress national Youth Chairman Charles Kabwita for what he has called impersonation. According to Chiteme, Kabwita was impersonating his name on a WhatsApp blog to post anti-government statements.
Chiteme, on Monday October 8, 2018 reported Kabwita at Kitwe Central Police. According to police, Chiteme has accused Kabwita of using his name in a WhatsApp group to insult State House. The police say Chiteme complained about a WhatsApp group member using his name to post anti-state house statements.
But Kabwita said Chiteme was a joker who has failed to work.
"Yes, yesterday on Monday, I received a phone call from a Mr Harry Mukuni an officer at Kitwe Central Police. I was told to report at 15:00 hours and like a law abiding citizen I went to the police though they kept me for over an hour and half before their questioning. I went with our Secretary General (NDC) honorable Mwenya Musenge," Kabwita said.
"There is a blog called 'Top Secret pa Zed' where am the chief administrator of the group. In that group someone has impersonated Chiteme and has been posting statements that were putting State House in disrepute. Honorable Chiteme then reported me to the police."
He explained that he has no control of who joins the blog because joining is posted through links.
"I gave a statement to the police. Now I have no control of who joins the blog. I can post the link in different WhatsApp groups for anyone to join. So how do I know who has joined? There are a lot of people in the blog and I don't know them all. The police wanted to find out if I can help with investigations, but I have refused because I font have control and they have the number of the said. Let them use the same number to go to ZICTA to find out who the person is."
[Read 451 times, 1 reads today]