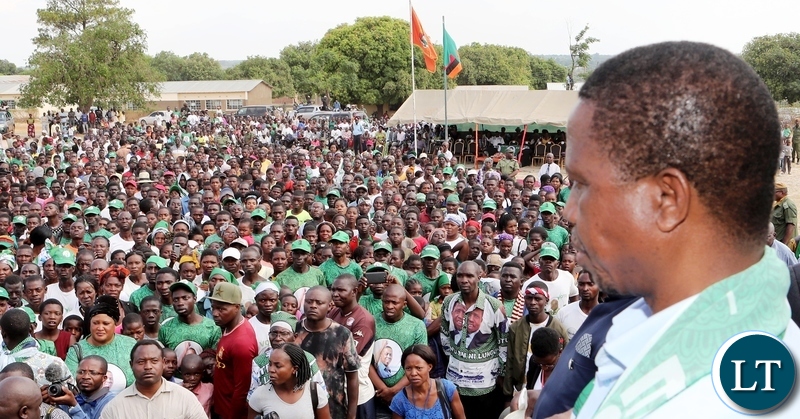 President Edgar Lungu has called on the people of Mangango to vote for the Patriotic Front Candidate, Godwin Putu in Tuesday's Parliamentary by Election.
And the President Lungu has plans to declare Mangango a district in order to accelerate development in the area.
He explained that he has been finding it difficult to take development to areas that are perceived to be opposition strong holds as their MPs and Counsellors do not want to work with him.
The Head of State was speaking at Mangango Secondary School today at a public meeting to drum up support for PF Mangango Parliamentary Candidate, Godwin Putu in the forthcoming by election.
President Lungu noted that it is important for the people of Mangango to elect leaders who have a heart for them and interested in seeing that their needs are well represented and development is being taken to their areas.
The Head of State added that, as a Chief Executive Officer of the Country and in charge of resources he is interested in taking development to all parts of the country but that he only needs people that are committed and ready to work with him.
Meanwhile President Lungu has advised Zambians to ignore people going around spreading falsehoods that they will be a general election next year.
He explained that such schemes by the opposition political parties should not be taken seriously as they are just aimed at confusing the electorates adding that, he is the only Republican President of Zambia with a mandate given to him by the people of Zambia from 2015 to 2021 when another election will be held.
Meanwhile, President Lungu has further advised Mr. Putu to continue humbling himself and put the interest of people first, when elected as MP on Tuesday November 20.
Earlier, PF Secretary General, Davis Mwila said Mangango has lagged behind in terms of development because of voting for wrong candidates.
Mr. Mwila pointed out that time has come for the people of Mangango to make corrections by electing the PF candidate Godwin Putu on Tuesday.
And Minister of Agricultural, Michael Katambo promised the people of Mangango that government will soon empower youths and women in the area with rice polishing machines and find them market for their cassava as a way of improving their livelihood.
Meanwhile Minister of Education, David Mabumba has urged people of Mangango to vote for the PF on Tuesday if they are to see a lot of development in the area.
Mr. Mabuumba disclosed that plans are underway by government to upgrade community schools to primary level while, some primary schools will be upgraded to secondary in the quest to improve education standards in the country.
He cited the upgrading of Mangango Secondary School and the electrification of Mayukwakwa Boarding School by early next year as some of the projects that the Ministry is implementing in order to increase access to education.
Meanwhile, Minister of Health, Chitalu Chilufya expressed concern that Mangango is still faced with inadequate health infrastructure and promised to address the problem.
Dr. Chilufya disclosed that government will construct three mini hospitals with operating theatres, Doctors and state of the art equipment in order to improve the delivery of health care services in Mangango constituency.
The President is accompanied by PF Secretary General, Davis Mwila, PF National Chairperson, Samuel Mukupa, Presidential Affairs Minister, Freedom Sikazwe, Ministers of Health, Chitalu Chilufya, Minister of Agriculture, Michael Katambo and his Education counterpart David Mabumba.
Four candidates are contesting the seat which fail vacant following the death of Naluwe Mweene who died in a road traffic accident in August this year.
PF adopted Godwin Putu while, the United Party for National Development (UPND) has settled for Mwendoi Akakandelwa and Singumbe Kabindama is standing on the United Prosperous and Peaceful Zambian(UPPZ) party.
Yuvwenu Kashandola is contesting on the National Democratic Congress (NDC) ticket.