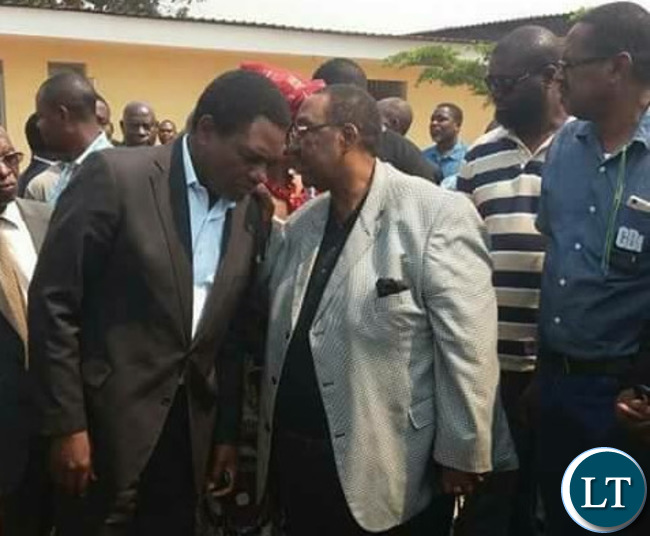 The Constitutional Court has thrown out an appeal in which UPND leader Hakainde Hichilema and his Vice Geoffrey Mwamba had asked the court to hear their application, challenging the swearing of President Edgar Lungu into office after the 2016 General elections.
This was in a matter in which Mr. Hichilema cited president Edgar Lungu, Vice president Inonge Wina and Attorney General Likando Kalaluka as respondents in the case.
They petitioned before a single judge who later struck out the petition on account that it was an abuse of court process but dissatisfied with the decision of the single judge, the UPND leaders appealed to the full bench of the court.
Attorney General Likando Kalaluka had asked the court to throw out the appeal because it was filed out of time and without leave from the court adding that the petition was heard and determined by a single judge and therefore there was no need for the constitutional court to review its own decision.
But in argument, the UPND Leaders asked the courts to dismiss Mr. Kalaluka's application and hear their appeal without undue regard to procedure technicalities.
Delivering the ruling on behalf of Constitutional Court judge Martin Musaluke, Master of the Supreme Court, Anastasia Lungu set aside the UPND leaders summons on appeal for being incompetent.
The court found that the petitioners should have applied for leave to file an appeal out of time.
Judge Musaluke said the petitioners fell in their own trap when they failed to comply with court rules.
He said the court was not clothed with jurisdiction to hear the petitioners summons on appeal because they did not follow the rules.
Meanwhile the Lusaka High Court has thrown out the matter where Mr. Hichilema and Mr. Mwamba sought determination on their rights to be heard following the collapse of the 2016 Presidential Petition.
Judge Mwila Chitabo has held that the High court has no jurisdiction on Presidential Petition matters.
Mr. Hichilema and Mr. Mwamba had challenged the 2016 Elections results in the Constitutional Court.
But their petition was dismissed on September 05, 2016.
The Court dismissed the petition on grounds that the time limit within which it was supposed to be heard had lapsed.