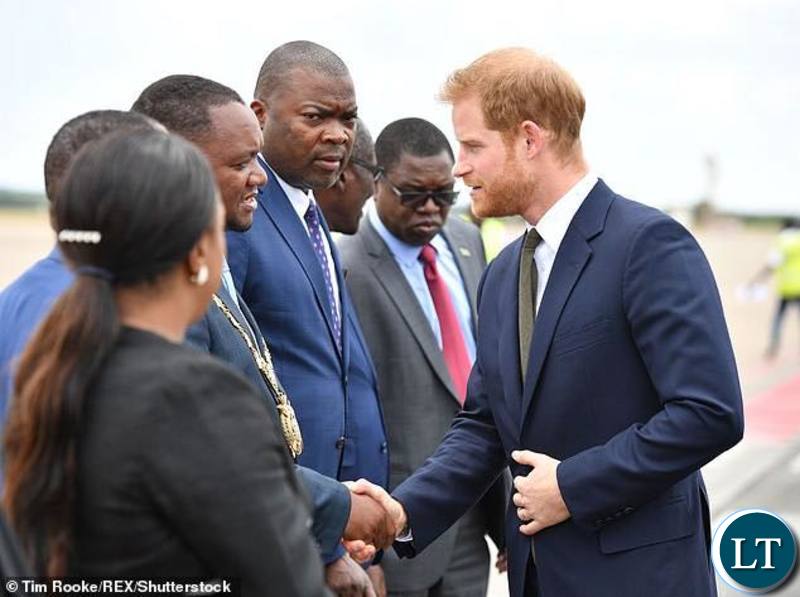 Prince Harry has arrived in Zambia without his wife Meghan amid reports the pregnant duchess pulled out of the trip due to fears over the Zika viarus.
The Duke of Sussex, 34, touched down at Kenneth Kaunda International Airport this afternoon and was the Minister of Foreign Affairs Joseph Malanji, Lusaka Province Minister Bowman Lusambo and Lusaka Mayor Miles Sampa.
Harry will complete the two-day tour of Zambia alone while his pregnant wife rests up with her mother, who is visiting Britain.
On arrival, Harry was greeted by nine-year-old Jane Chawanangwa, who presented the prince with a large bunch of flowers.
His trip will also see him visit the Burma Barracks in the capital Lusaka, where he will commemorate the country's World War veterans.
During the visit, Harry will attend a board meeting with African Parks and meet Zambia's President to learn about the country's WWI centenary commemorations.
British High Commissioner to Zambia, Fergus Cochrane-Dyet, said: 'The Duke of Sussex takes a special interest in Southern African and is assured a warm welcome during this first official welcome to Lusaka'.