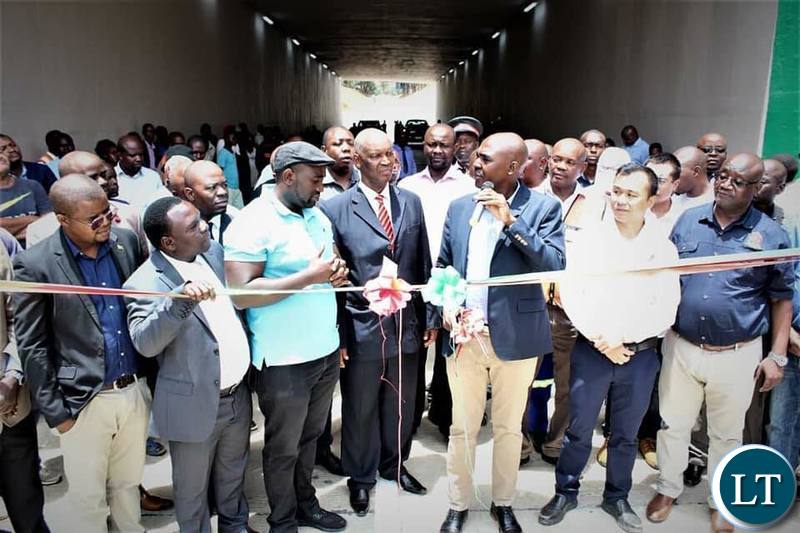 Copperbelt province Minister Japhen Mwakambe has officially re-opened part of the road on Dag Hammersjoid commonly known as the under bridge which was partially closed to pave way for rehabilitation works.
Mr. Mwakalombe said infrastructure development remains part of government's top agenda as it is key to economic development.
Mr. Mwakalombe who is also Chongwe Member of Parliament expressed delight that the road which was once a nuisance to motorists and other road users has now been permamently worked on, and has since saluted the business community in Ndola for having come to the fore.
He said infrastructure development also remains one of the major pillars in the Seventh National Development Plan(7NDP).
And speaking earlier, Ndola Mayor Amon Chisenga thanked the Copperbelt provincial Administration for helping the local authority to engage the business community where an amount in excess of 10 Million Kwacha was raised to rehabilitate the portion Of the road.
Mr. Chisenga said the under bridge road was for a long time been in a bad state, a situation that gave room to people to abandon the road which leads to the industrial area.
Present at the ceremony was Ndola Central Member of Parliament Emmanuel Mulenga who called on companies in the district and the province as a whole to emulate what their counterparts had done.
Mr. Mulenga commended the contractor China Jiangxi for putting up quality works which he expressed no doubt will stand a taste of time.
Meanwhile, Zambezi Portland Cement which is one of the business houses that have helped to rehabilitate the road through their representative, Mwangala Situmbeko pledged his companies continued Social Responsibility Programes.